The wardrobe is often the one that surprises most those who discover the universe of trunks. Imposing in their size and ingenuity, the wardrobe has several standards but can also, once opened, reveal some surprises. Find in this folder the history of Louis Vuitton Wardrobe trunks.


Chapter 1: From failed beginnings to renewal.

Wardrobe, the definition by Patrick-Louis Vuitton: series of trunks opening vertically in two parts. This kind of trunk is equipped internally a racks for man or lady and part wardrobe man or lady. These trunks can be full wardrobe or full racks.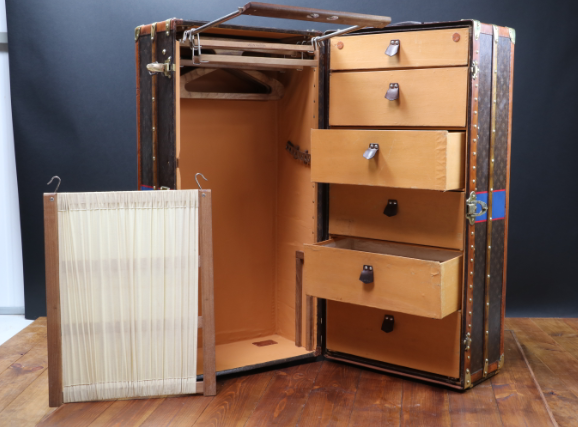 Wardrobe 55', for man, stencil monogram with stable band and privacy curtain.
The first patent of the wardrobe was deposited at Viennes, about 1852. From this idea sprang many models, but the fashion of this time (crinoline, dresses filled or loose, handles with leg etc.) condemned this invention.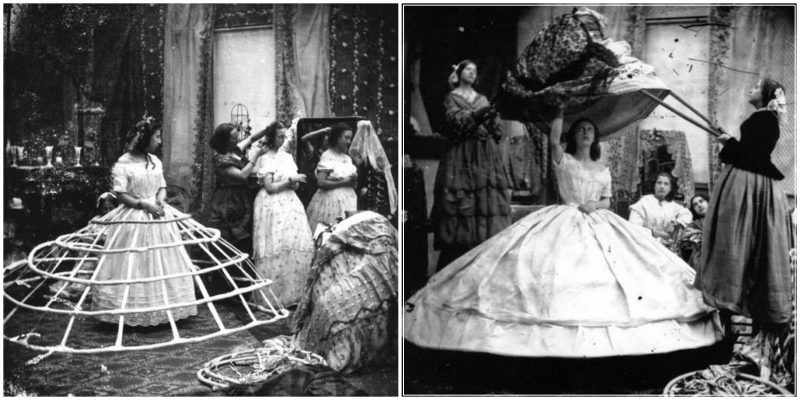 Crinoline, 1860
Around 1875, Louis Vuitton, learns, during a dinner with Charles Frederick Worth, the famous designer, that it is soon the end of puffed dresses. The next day, he makes a trunk to the measure of next dresses, with wardrobe and drawers. The wardrobe takes off again thanks to a radical change in the fashion and the appearance of suits and soft dresses.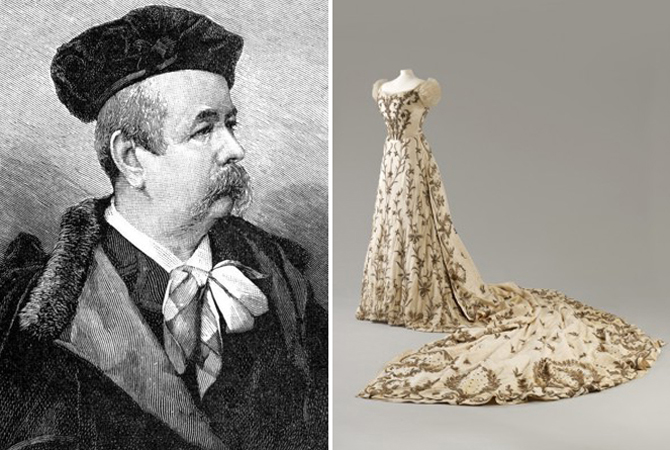 Charles Frederick Worth, pionnier of fashion.

Chapter 2 : The Wardrobe Standards


The wardrobe was not just designed to transport ladies' and gentlemen's clothes from point A to point B. It's a real traveling piece of furniture. Indeed, all its ingenuity comes from its interior; it is no longer necessary to unpack your clothes, the dresses and costumes remain suspended, forming no fold. As soon as the trunk is closed, the clothes are pressed against each other, and cannot move and therefore not wrinkle or fray.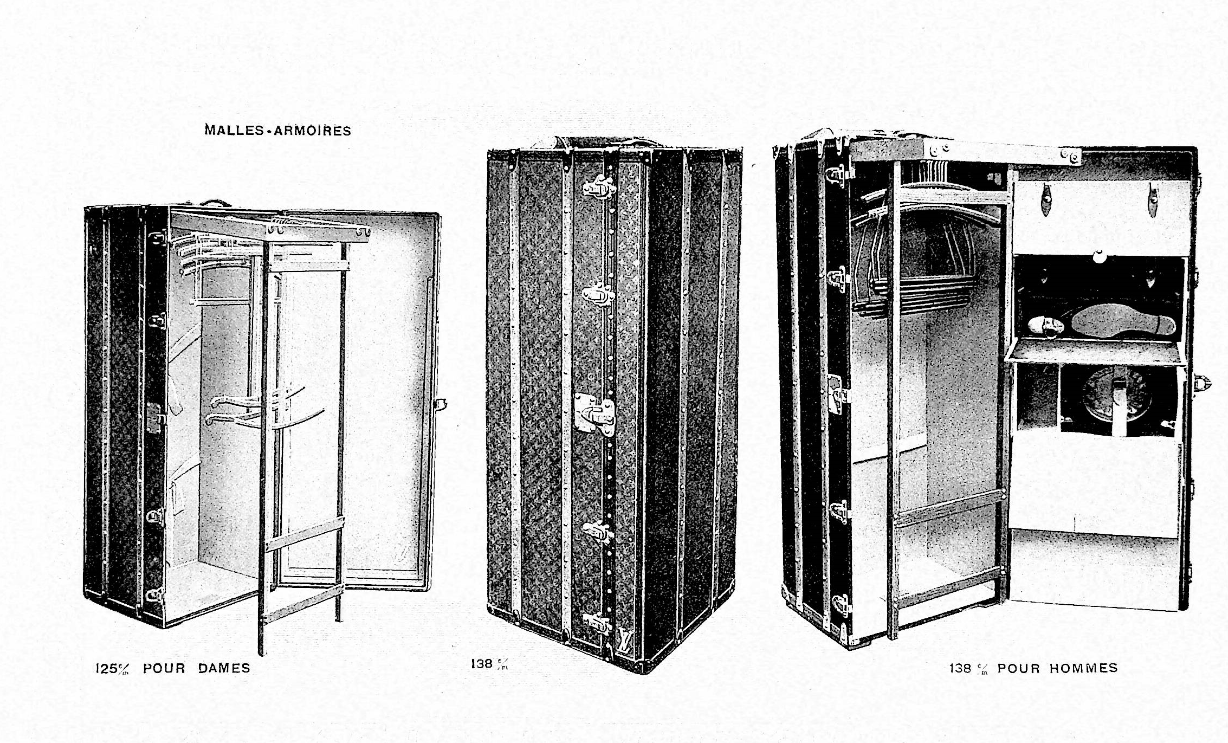 Louis Vuitton's Catalog, 1914.
The standard wardrobes in the Louis Vuitton 1914 catalog come in a variety of sizes and formats.
For lady, the standard format is 57x55x125, with wardrobe and drawers, leaving room for 12 to 18 clothes and dresses plus shoes, cloths, gloves, hats according to accessories or, if any wardrobe, 15 to 25 clothes. They are also equipped with ladies' hangers, called "Princess Hangers".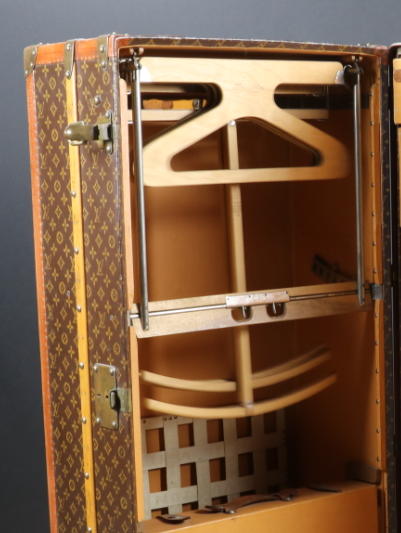 « Princess Hangers », these elongated hangers, designed for dresses.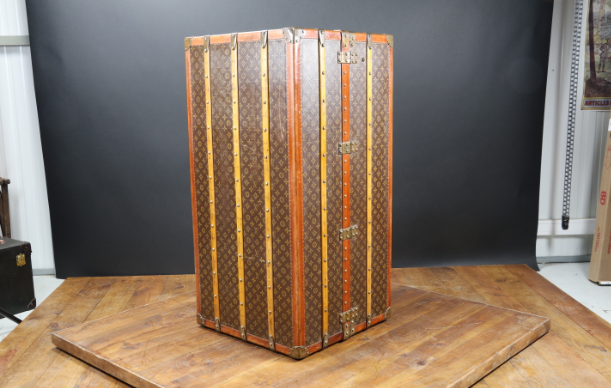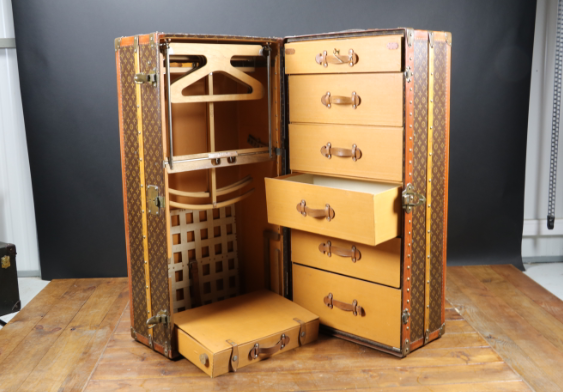 Lady Wardrobe « 55' », monogram Louis Vuitton, ref : R2369
For men, the standard format is 57x55x135 and consists of the same elements. It also exists in 57x55x115 to "meet the standards of American railway companies" and it is also suitable for people of average size. Each one of them is equipped according to your needs, full wardrobe, full racks, frame with hats or coat racks... And sometimes, one finds even accessories a little out of the ordinary...

Chapter 3 : Out of the ordinary Wardrobes


In our business, we have the chance to find, over the years, countless exceptional trunks. Among the wardrobes that we had in our possession, here are the most original.

The double wardrobe, with two suitcases. Smaller than standard, it is 115 cm high, 55 cm long and 52 cm wide. It has a monogram canvas stencil. Unlike the others, it has no opening from above..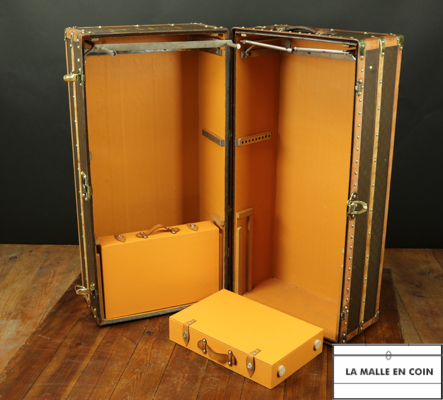 Double Wardrobe, Louis Vuitton monogram, Ref : MTT2018-24

We also have the complete wardrobe, with six drawers, a shoe case, an ironing board and its iron (US electrical system), monogrammed with stencils. It measures 115cm high, 65 in length, 55 in width. It is a trunk that always surprises our customers because of its originality.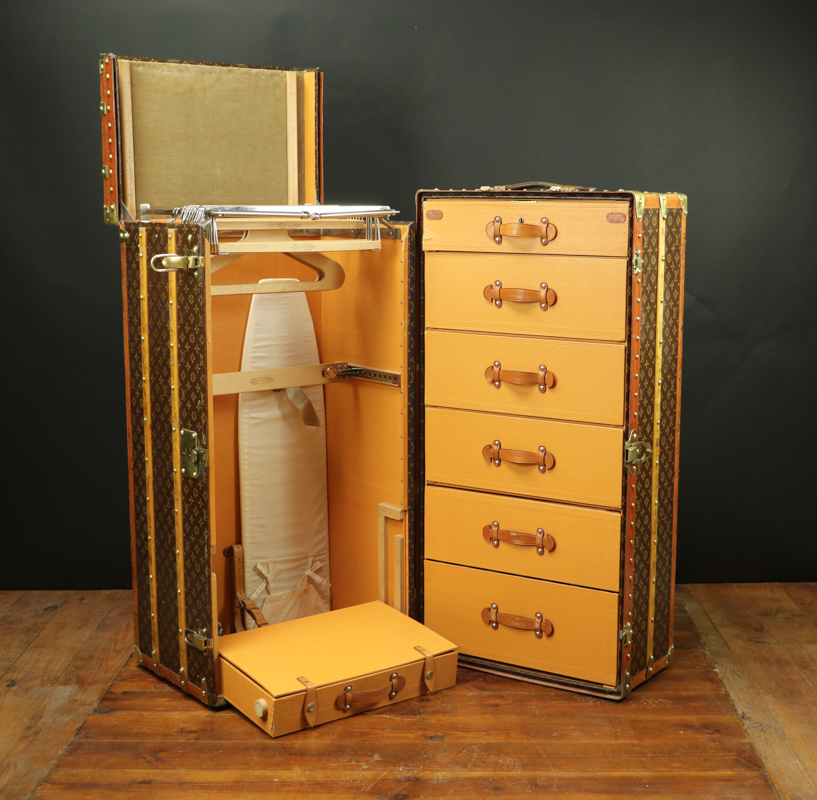 Wardrobe with its iron-table and iron, ref : MTT2018-13

The following wardrobe is one that has brightened our curiosity. This is a wardrobe that seems to be more banal, with its four drawers and side wardrobe that fall into the standards. But once the drawers are removed, you can discover two secret drawers that open at the back of two normal drawers. Was it to store money, safe from thieves? Or maybe to hide important documents...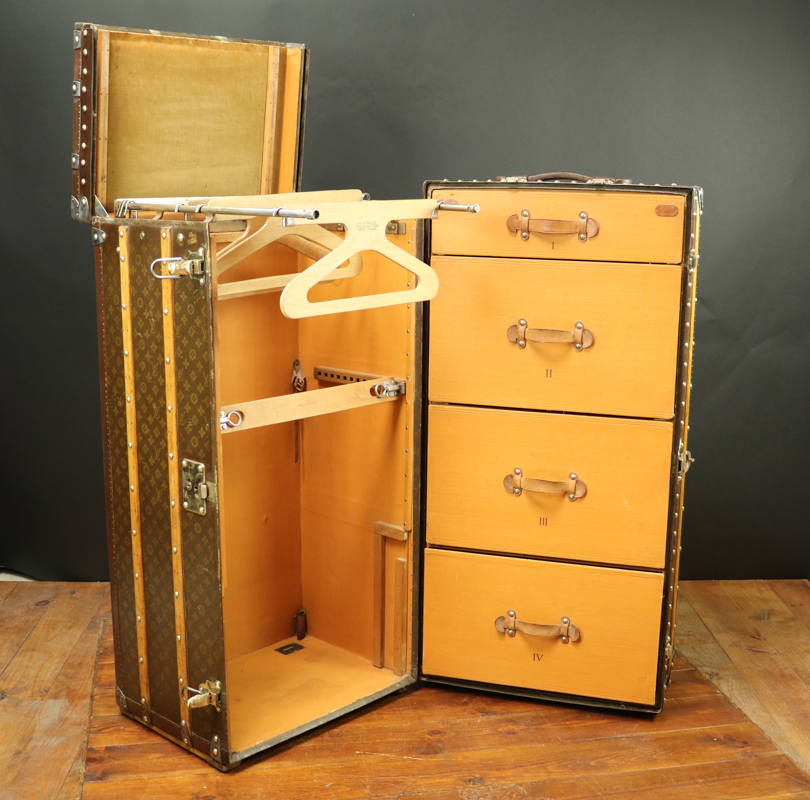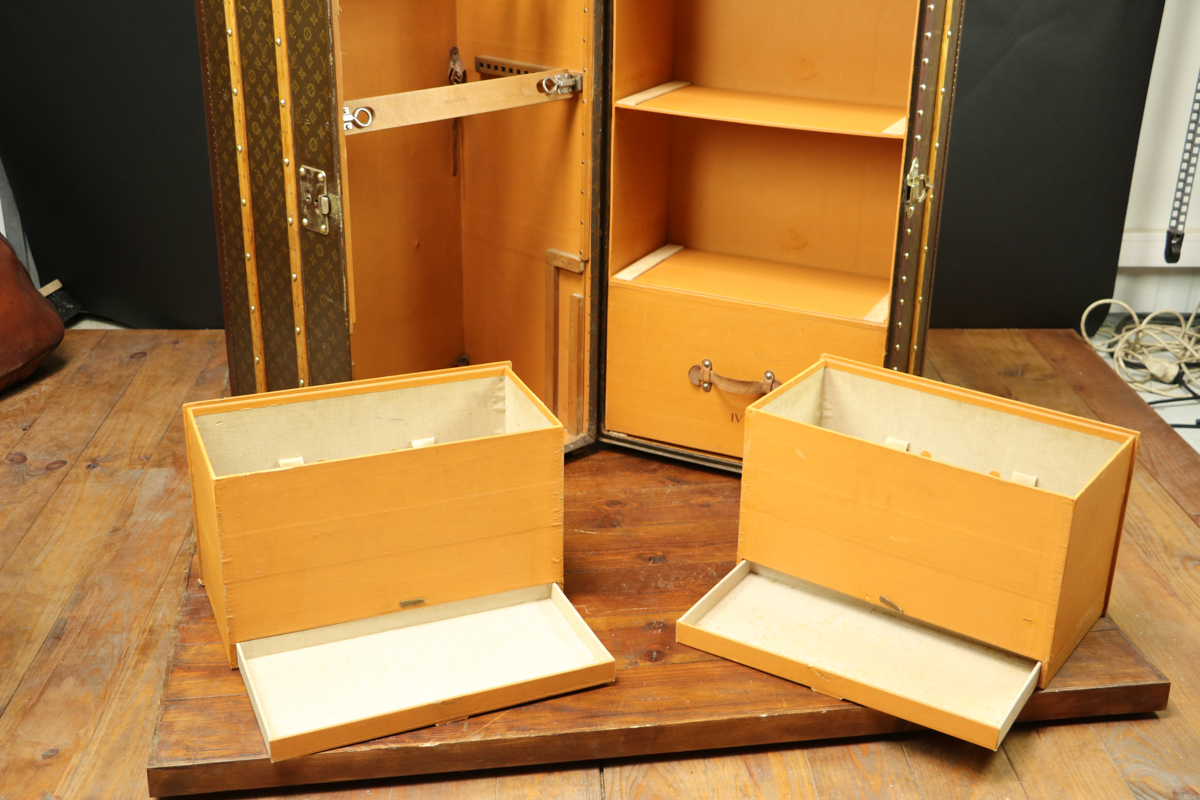 Wardrobe with secret drawers, stencil monogram. Ref : R2563.
The Louis Vuitton Revolving Wardrobe is a unique wardrobe trunk. Equipped with three doors, it opens at the same time from the top and at the front to access the wardrobe but also, once returned, at the back to access several drawers dedicated to storage.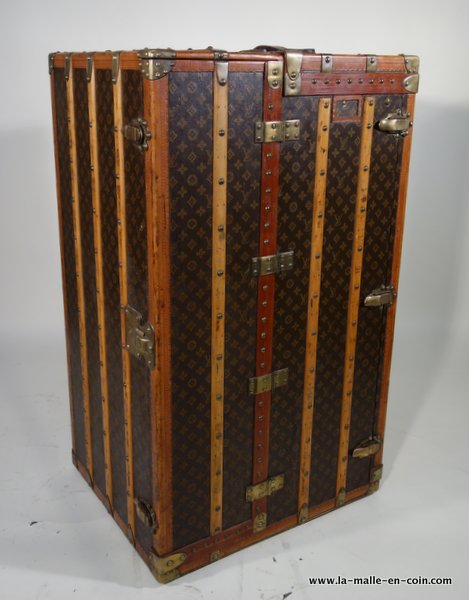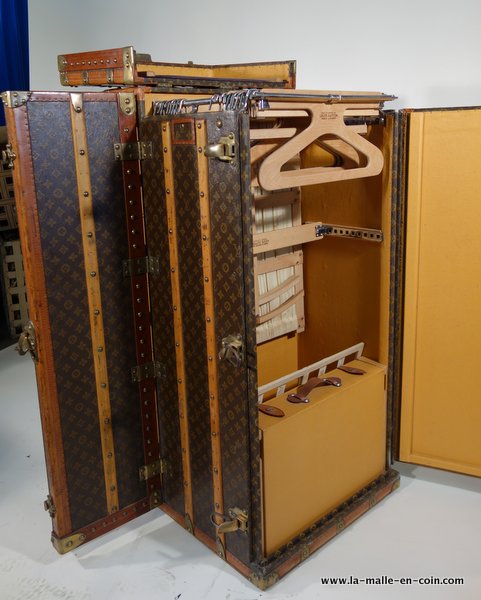 Rotating Louis Vuitton's Wardrobe, stencil monogram, Ref : MTT2015-36
Chapter 4 : What can I do with my Wardrobe?? (Decoration, restauration…)

The Wardrobe will not only be an element of decoration, but also a real piece of furniture that will add a spirit of travel, vintage and glamor to your interior. Used as a valet, she will be a perfect help in choosing your daily outfits or as an exhibitor for your most beautiful clothes and accessories. In a living room, you can store your decorative elements or make a cloakroom dedicated to your guests.
The trunk is a customizable item that you can easily turn into a champagne trunk, alcohol trunk, etc.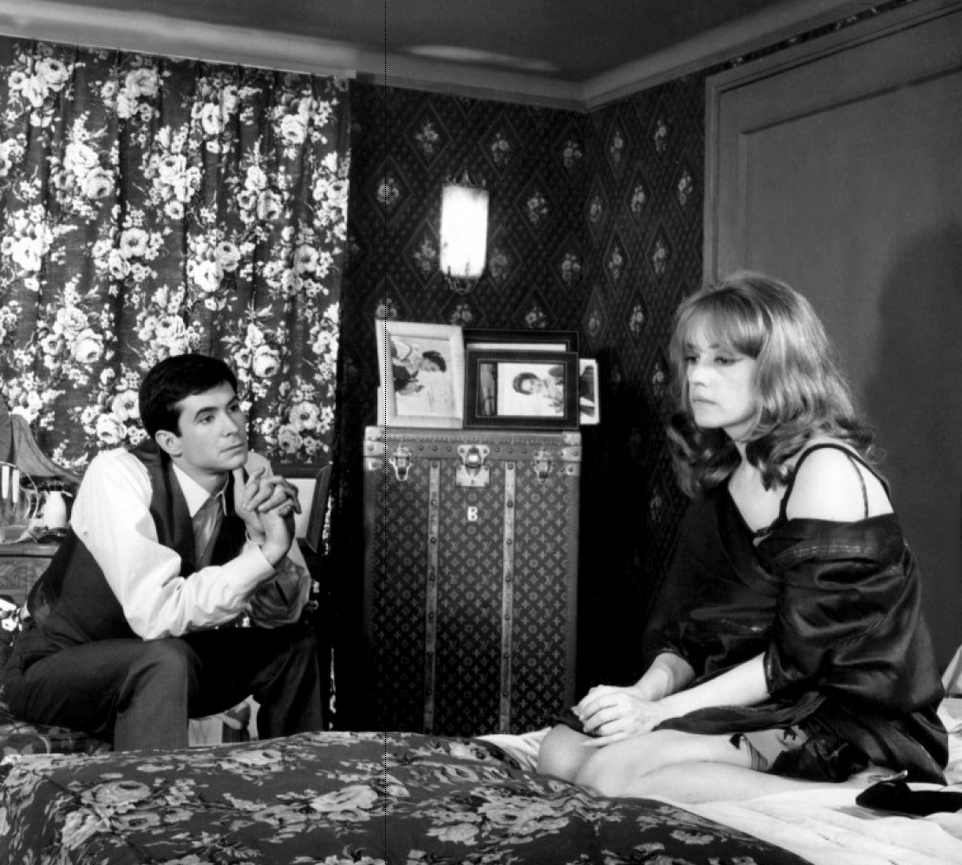 "The trial" Orson Welles, 1962.
A Louis Vuitton's Wardrobe between Anthony Perkins and Jeanne Moreau.
If you wish to acquire one, do not hesitate to visit our shop on this link.
If you want to estimate yours or have it restored, click on this link and contact us! We would be more than happy to assist you in your search for the perfect wardrobe trunk!