Building a trunk is not impossible for those who have time, the needed spare parts and a minimum of manual dexterity.
In this post, we have listed all the elements necessary for the making of a trunk.
We advise you to buy poplar plywood.
You will be careful to assemble the whole of it with white glue and standard casing nails.
Once your box and lid created, the construction of your trunk can begin.
You will find below a list of all the elements necessary for your project.
All the presented items can be found in our spare part online shop
1 With coating fabric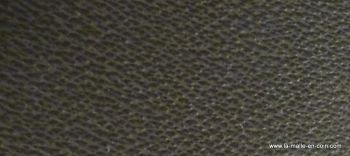 You will find a chocolate canvas available in our online shop: CANVAS
To calculate the necessary surface:. it is the same as the surface of wood
that you have used with about 20% more for rolled edges.
2 With lozine bindings

We supply 150 cm strips of lozine already cut with width 5cm LOZINE
Lozine is a semi-supple product, rotproof and water-resistant.
You will have to paint it (2 coats + matt varnish, which enables to choose the color you wish.
You can also opt for leather, but this requires a higher skill, dye for edges, and hides with dimensions compatible with your trunk dimensions.
Remember that you need lozine for:
- the 4 vertical edges of the trunk
- the 4 horizontal edges of the trunk
Generally we do not put binding on the back edges.
Thus, a 100x50x50 cm trunk will require at least 5 meters of lozine + around 10% for rolled edges (top and bottom).
Holes have to be punched in the bindings before putting the 8mm steel or 11mm brass nails.
Nails are sold by 100 at a time, but remember that generaly on a 100cm binding, you place a nail every centimeter, and on both sides, which makes 200 nails per meter.
You can put only 100 nails a meter if you place them every 2 cm.
For instance: Goyard 1 cm, Vuitton around 1.5 cm; Moynat, Aux Etats-Unis, etc.: other spaces.
3 With reinforcing slats
Slats are supplied already sanded SLATS

They are made of beech wood like on most trunks made by great historical brands.
You can either varnish them, or stain, wax, paint them according to your wish.
They are also beveled.
3 With jewelry
Jewelry is the term used to refer to the hardware.
1 The lock
A beautiful lock is the signature of your trunk.
We have created an up-market solid brass lock.
Specially made for us, this item is an exclusive. .Up-market lock
We also propose a new lock from an ancient stock
Proposed in various qualities and dimensions, depending on your project.
Clasps are present in our catalogue in 8 different sizes, steel, brass, golden...
For you to choose according to your project, your taste and your budget
Corners exist in 24, 30, 40 or 50mm (dimensions of the edges).
Generally, 50mm corners are used for wardrobe trunks or large trunks.
The 40mm ones for steamer trunks.
The 30 and 24mm ones for suitcases..
They can be solid brass, golden metal or nickel-plated steel.
Angle brackets enable to fix and protect the wooden slats.
They are available already bent or not, depending on the models.
The solid brass standard model has 3 holes.
We put one angle bracket at each end of the slats, which means 16 angle brackets per trunk generally.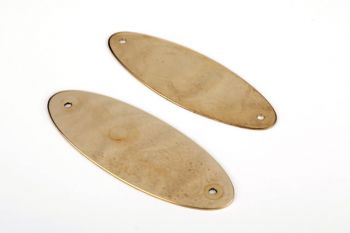 To be used if your project includes a valance (strip surrounding the lower portion of the lid).
They fold half-and-half, contrary to the ones for the slats.
They are available with oval or rectangular shape.
For suitcases, small models exist too.
Hinges are essential to the good opening/closing of your trunk.
On a 100cm trunk, allow 3 hinges.
Either castors or rounded feet will enable your trunk no to scratch the floor and not to have humidity.
8 The label holder
The label holder will be positioned on the side of the trunk or even on both sides sometimes.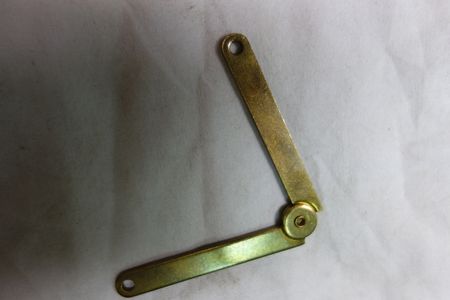 It enables to keep the trunk open.
1 Leather
A trunk handle is positioned with 2 brackets.
A common mistake consists in ordering 1 pair of handles and 1 pair of brackets when 2 are required.
2 Metal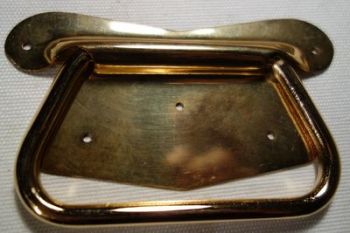 Metal handles are mounted directly on the trunk coating.
Strap buckles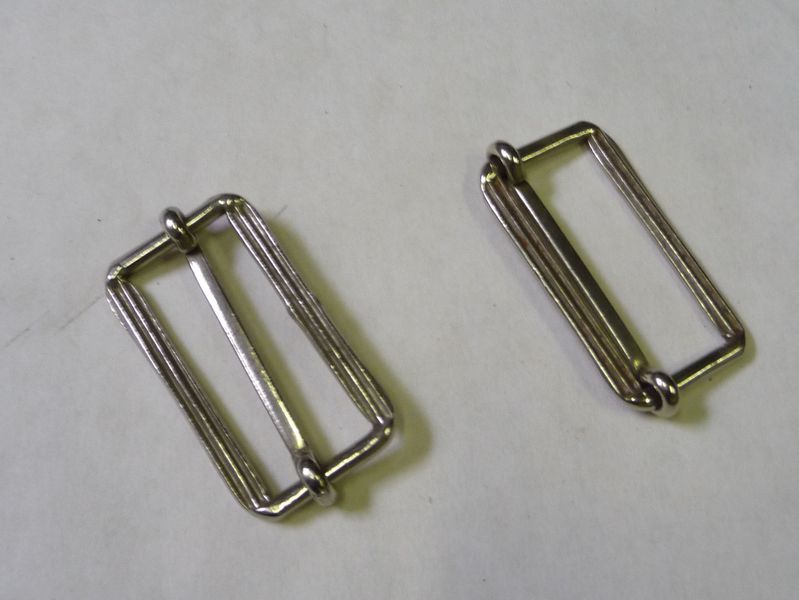 Nail products are a very important part in building a trunk.
Contrary to what many people imagine, you cannot build a trunk with upholstery tacks.
There are 2 reasons for that. On the one hand, they are too short and on the other hand they are made of steel and break when twisted.
To build a trunk, you need:
- long nails (for slats, for instance, since they must cross the slat and the box, before being bent over)
- nails annealed (to be bent over)
- nails that can be riveted (lock, handles, clasps)
in 30 nails
- small nails, for interior padding for instance