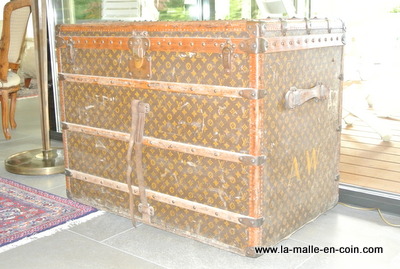 Here is a beautiful Louis Vuitton women hat trunk.
It is a monogrammed version, with lozine bindings, leather handles, and brass hardware.
Our client bought it abroad on a public auction.
She brought it to us for restoration.
I propose here to see the result, after:
- cleaning the brass hardware
- cleaning the canvas
- mending the scratches
We are often asked for more tips about restoring... and the first tip that we reveal to you, for that Vuitton restoration, is that we have used NO product to clean the brass hardware. Everything is handmade. Ban "Miror" and other miracle pastes.
Once the restoration is finished, we will use however on the metal parts, a special wax, based on petroleum, to ensure preservation, limit contact with air and thus avoid oxidation.
We still have work, but the trunk already looks better… does not it?
The rest when the trunk will be totally restored.