A foreign merchant brings us a well-damaged trunk.
She stayed in the water of a cellar, we will, in this article, tell you about her rebirth.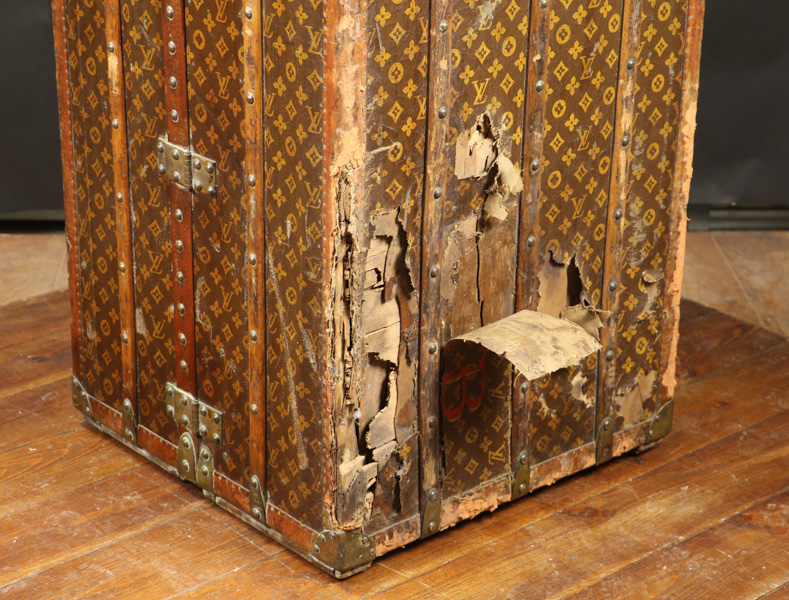 The trunk suffers from several faults:
First of all, even if it is not visible on the picture, the beech reinforcement slats, on the damaged side, are crumbly everywhere, in dust, and are split in many places. These parts must therefore be changed.
A piece of canvas from the bottom of the trunk was torn off, to be loosely glued to the damaged side ... wrong way...
The poplar, constituting the structure of the trunk, swelled and the wood completely broken.
The canvas is irretrievable over a large part of the trunk.
The humidity has taken off the entire canvas, on all sides, in places, it is floating and, in others, pleated.
The lozine (fiber), forming the angles, made of vulcanized cellulose fiber, did not like its prolonged stay in the humidity and disintegrated. It will therefore have to be replaced.
We start the work by dismantling the broken elements.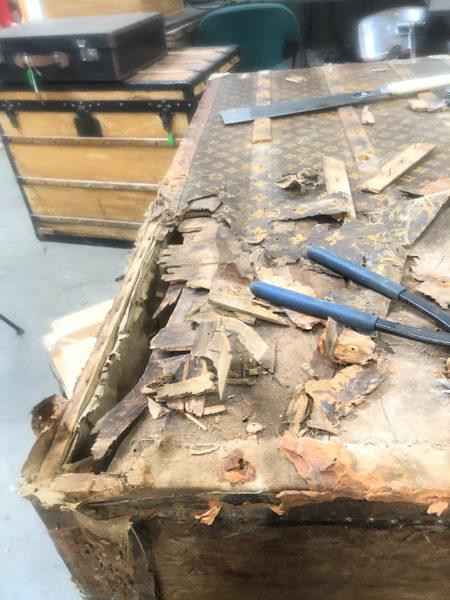 We take off all parts, the nails, the corners, which will be restored later and we amputate the destroyed sections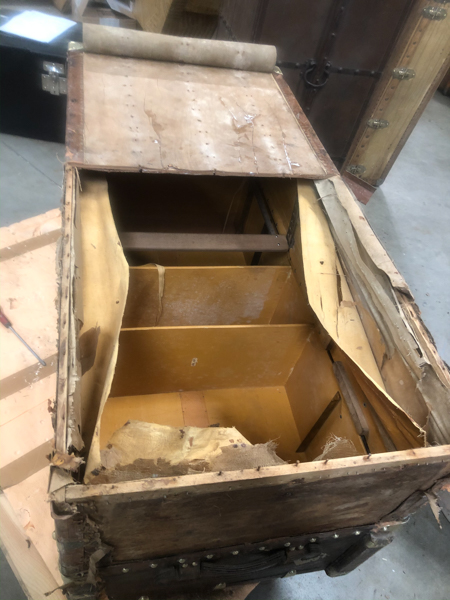 Then we replace it with healthy wood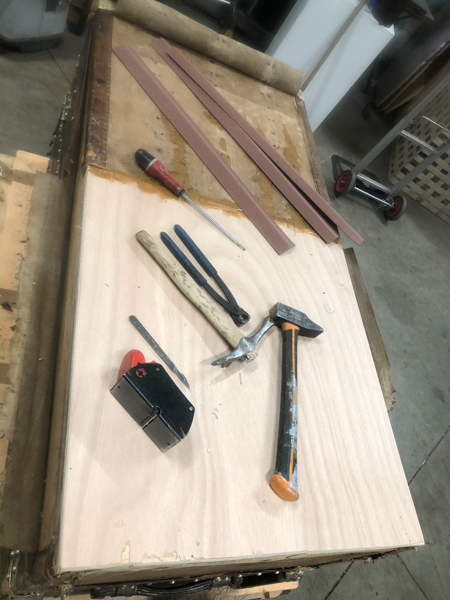 Healthy wood is glued / nailed and planed to be precisely adjusted.
We use Poplar wood, in 10mm, according to the origin.
We recover old lozine, of the same width, which we must adjust, in terms of puncturing the nails.
Using monogram canvases from the same period, we recreate the continuity of the motif in a "marquetry" or "puzzle" way.
We are often asked if Louis Vuitton sends us the new canvas :-) No, nobody gives us anything.
On the one hand, Vuitton does not sell canvas, on the other hand, if that were the case, they would not have this one.
The old trunks are, in fact, made of canvas called "stencil canvas", while modern canvases are printed.
So, to carry out a restoration in the rules of the art, it is important to have identical canvas AND period;
Once the canvas is reconstituted, and, using old lozines of the same width, we recreate the angles.
We put about 1 nail per centimeter. We also reconstruct the background.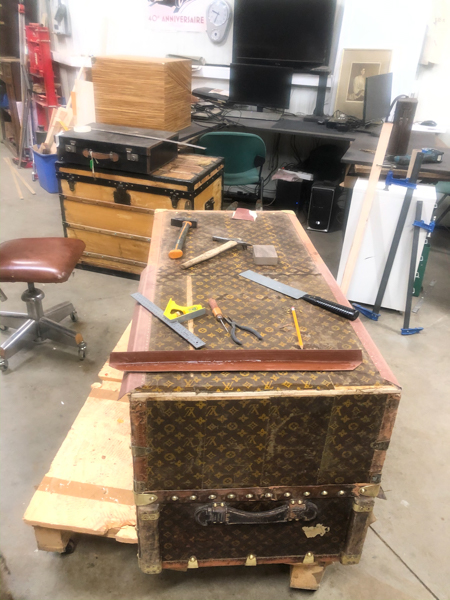 Once this step has been completed, we must make the solid slats from the solid beech with the right profile.
We cut, in a beech block, from the neighboring sawmill, slats which are profiled using a router under table, a sort of miniature spinning top.
The jewelry (squares, corners AND nails) that has been dismantled is restored, rusted, straightened and polished, then put back in the required intervals.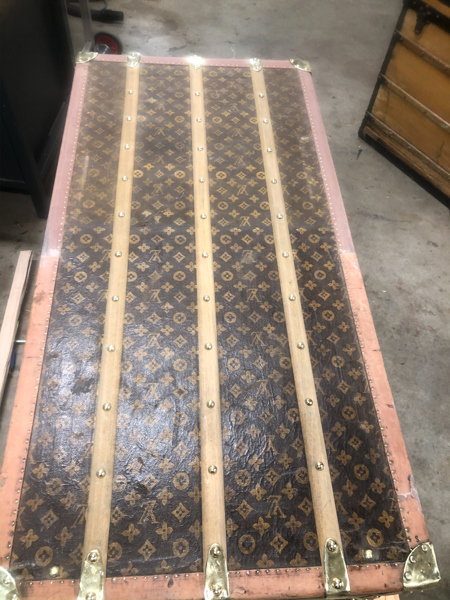 After these steps, we will have to manage the lozine, to standardize its color, on this face and on over the trunk;
It will be necessary to revive the redone face inside the trunk and, of course, restore the entire trunk, give it back its luster.
These final steps will be published shortly.