Page 4 of 8
CHAPTER 3: GASTON-LOUIS VUITTON, THE REFINED COLLECTOR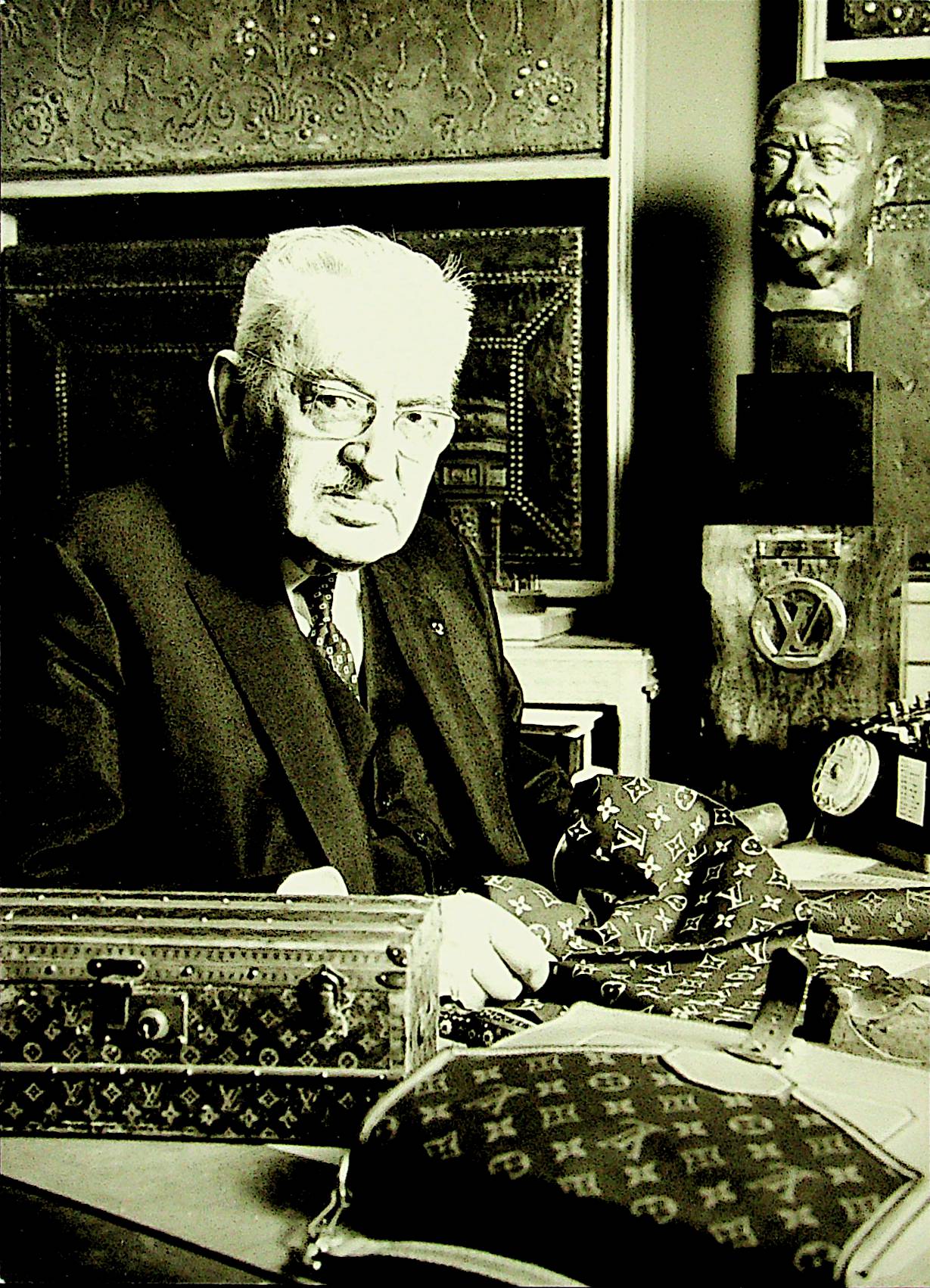 Gaston Louis Vuitton posing next to the famous flower trunk from the brand
"I almost was born in a trunk!" states Gaston Louis Vuitton in the television program "Avis aux amateurs" in 1961.
Gaston Louis Vuitton was born on 30 January 1883. He is known for having a fragile health from childhood due to bronchitis problems. That is why he alternates school system and spa cures. He will write in a letter to General Henry Marti, "Having sit no exam, I have suffered no failure!". Because Gaston-Louis Vuitton was also a humorous man.
Gaston-Louis Vuitton gets married to his childhood friend on 15 November 1906, while he already has been an apprentice for eight-year at Louis Vuitton shop in Scribe Street. He takes part in the family business in 1907. In 1910, one of his younger brothers, Jean, dies.
Then the first world war breaks out. Because of his bronchial problems, he will be exempted from military service, while Pierre, Jean's twin brother, is sent there. Gaston-Louis will get his assignment to the auxiliary service and will be mobilized on 1 February 1915. He will come back home on 10 March 1919. As for his brother Pierre, on 28 September 1917 he is declared "Mort pour la France" as a result of serious injuries. Of the five children of Georges and Josephine Vuitton, Gaston is the only one still alive after the war. The family will grow with his 7 children, including Thérèse who will die before being 4.
Unlike Louis and Georges Vuitton, Gaston and the twin brothers do not aspire only to trunk-maker and packer trades. Pierre and Jean build light cars, aeroplanes and helicopters and Gaston is sensitive to reading, arts, gardening and photography. His artistic eye will enable him to create magnificent window displays for the Louis Vuitton boutiques. The Asnières workshops change purpose: from trunk-makers as were his father and grandfather, the company Louis Vuitton becomes "Manufacturer of trunks, leather goods, goldsmith products and travel items" in 1914. In the Louis Vuitton catalogues, luxury products multiply and, adorned with their most beautiful finery, become true works of art.
The Wall Street crash will cause many shops on the Champs-Elysees to close: even the company Vuitton will suffer. But Gaston persists and involves himself in order to maintain Louis Vuitton at the same rank and, despite the difficulties, does not take the easy way out and keeps his high luxury products. He has only just recovered from this financial crisis when, like his father and grandfather before him, Gaston must face war. Thirty-eight percent of the shops in the Champs-Elysees will close within thirty days after 3 September 1939. Some time later he will leave for the Nice boutique and let his son Henry-Louis take care of the shop in a Paris under the Vichy regime.
Gaston-Louis dies in 1970. He will remain known as "The collector of objects" and for his love of delicate art which he will inject not only in his life and hobbies, but also directly in the Louis Vuitton brand.
Books : La Chambre des Merveilles : Les collections de Gaston Louis Vuitton.