The art publisher Devambez has just delivered the very first copies of his book on Goyard.
With a print run of 233 copies, this book, which comes in a specially designed trunk, is totally printed in the old-fashioned way.
Art book par excellence with a single limited run, printed on watermarked deckled vellum paper that was custom-made by Arches papermaker, the texts are printed with lead letterpress techniques.
The trunks are made to order with the colors, initials and monograms of the customer who orders one.
The project was initiated 3 years ago by Pierre Tzenkoff, a craftwork passionate.
At the time of the subsciption, a year ago, we had ordered a book.
Delivery was due on Dec. 16th...
On Dec. 16th in the morning, it was there...
Congratulations Pierre for this technical achievement and for gathering the documents.
Thanks for your aknowledgements at the end of the book.
Long and successful life to Devambez.
You can discover this work, essential for a trunk passionate's bookcase, on:
http://www.goyardbook.com/goyard_le_livre.html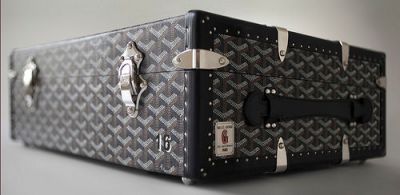 Our copy: historical Goyard canvas, fawn leather bindings, brass jewelry.