Page 1 of 4
Each week, we receive 1 to 5 e-mails asking for a value estimate of a Vuitton trunk.
The following 10 pages file aims at helping you understand the value analysis components for a Vuitton trunk in particular, and, generaly speaking, for any luxury trunk.
Reading this file, as complete as possible but non exhaustive, will enable you to understand the difference between trunk and trunk. Depending on its condition, a Louis Vutton trunk can be worth between 300 euros and xxxx euros.
For non-restored trunks, you can commonly find prices between 1000 and 4500-5000 euros; beyond this is quite uncommon for a simply rectangular trunk.
Reading this file will also enable you not to be surprised by the low value of certain pieces and to understand that a Vuitton label does not necessarily means expensive.
Louis Vuitton, who started in 1853, was, until the 30s, a trunk-maker like the other 150 in Paris.
The aim was to transport objects, not to make a luxury item. Thus, Louis Vuitton, as well as Goyard, Moynat or others like Lavolaille, Walkers, etc., have produced entry-level pieces, with iron bindings, painted coated fabric, and more luxury pieces.
What made luxury were the special orders which raised the range and the image.
For the restoration of these trunks, we use long and expensive processes totally different from an ordinary restoration.
A common restoration easily takes 1 week.
This must be taken into account to understand the value of an object as it is on the one hand, or restored on the other hand.
But what makes the value of a trunk?
Of course, apart from the technical aspects, there is the market, the place and time when the sale takes place, and the possible prestige of the previous owner (with indisputable proofs, photo of the owner WITH the trunk).
I will not talk about these specifics because the market is different whether you are in France, in Germany or in Japan.
Furthermore, it is obvious that a Louis Vuitton trunk which has belonged to Marylin Monroe for instance will not have the same value than my grand-mother's one!
Moreover, there are no fees in a mutual agreement sale, contrary to an auction sale.
This file cannot be exhaustive. Therefore do not hesitate to write to us and to send photos (This email address is being protected from spambots. You need JavaScript enabled to view it.).
1 The canvas
Vuitton has made trunks with very different canvases (monogram, plain, yellow, red, black, beige, etc.)
The best known is the monogrammed one; however you will find (in canvas value order):
1.1 LV monogram stenciled canvas
This canvas is stencil decorated. It is the best known canvas, the most "quoted" worldwide.
From Japan to Russia, everybody knows this canvas, which has become a standard.
In Goyard, you will find a "chevron" canvas which is silk-screen printed on linen.
1.2 Woven monogrammed canvas
The monogram is woven in the canvas.
Less known, this canvas is often less contrasted, it is older.
In Goyard, you will also find a woven canvas, of lower quotation.
1.3 "Modern" monogrammed canvas
It is the currently used canvas on Vuitton products (soft luggage, bags, trunks, suitcases, etc).
It comes in various versions:
The classic monogrammed canvas.
The LV canvas inspired by the Japanese artist Murakami (uncommon on a trunk)
The monogrammed canvas with green or dark glints is much less sought-after.
1.4 The Damier canvas
The damier canvas used by Vuitton comes in several versions.
The best known and most sought-after is a "damier" on which some squares are filled with "Louis Vutton déposé".
The same canvas exists with nothing special.
Lastly, there is a yellow damier canvas which corresponds to the 6th series trunks (entry-level items).
False friend:
You will find damier canvases in Moynat Au Départ, Lavolaille, Roncati, Georges, etc. Each damier is particular and has its own dimensions.
An LV damier can be easly recognized by the size of each square, the shape of the stitch it is composed of and the used shade.
1.5 Striped canvas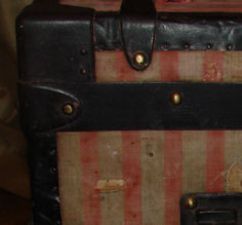 The red one is uncommon.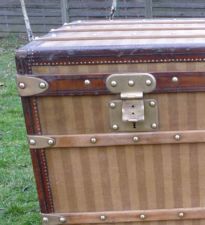 Brown striped canvas
Brown striped canvas with darker brown shades.
The striped canvas has been used by dozens of trunk-makers in the 19th and 20th centuries.
Striped canvases can be brown, green, bordeaux, etc.
It is easy to put LV handles and label on an unbranded trunk but an expert will not be fooled. Turn to a connoisseur.
1.6 Leather coating
Leather is a luxury coating, but its value depends on its condition.
It must still have its GOLD color (natural cowhide); dark or black colors are important depreciations.
Leather trunks are less sought-after for they have no visible branding (jewelry excepted).
1.7 Vuittonite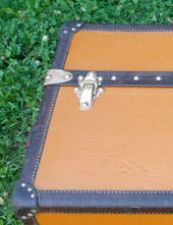 Either orange (the best known), yellow, red (the most unusual) or black (the less sought-after), Vuittonite is always a plain coating.
1.8 Grey Trianon canvas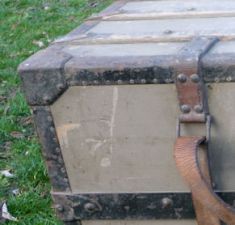 This grey canvas, first color for Vuitton canvases starting from 1854, is the historic canvas of the brand.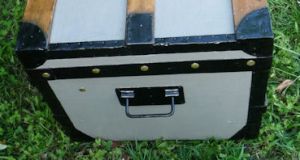 Most often, this canvas goes with flat reinforcing slats which are different.
Wide slats, whichever the canvas, are less sought-after.
1.7 Plain canvases
LV trunk with beige canvas
Plain canvases are the least sought-after.
False friend:
On an antique trunk with plain coated fabric, the tacks are not Louis Vuitton marked and the locks have no tumbler.
It is thus very hard for a beginner to recognize the genuine from the modified.