Page 2 of 4
1.8 Important depreciations on a canvas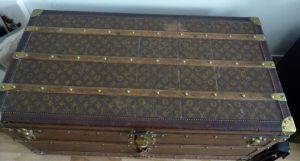 This Louis Vuitton trunk (bindings, leather...) seems beautiful at first sight.
Looking more closely, we can see that:
The monogrammed canvas is systematically cracked in between the slats and a great monogrammed area is missing.
Restoring this will need more than two full-time workdays by a capable restorer.
(loss of value, as is: 25%)
The important restoration costs will lower the value of the trunk.
The same goes for LV trunks with no canvas left... the more canvas is missing, the lower the value is, and an LV trunk with no canvas will have no great value at all.
The interior of this same trunk is totally damaged: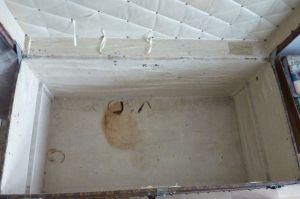 The lining, padding, ribbons have to be remade, the interior is missing, there is no key, no strap, no tray.
Loss of value, as is: 10%
Other example: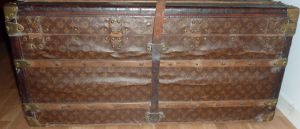 Here, with humidity, it is the whole LV canvas which comes unstuck.
It needs to be glued back, and then the flaws will have to be touched up (loss of value, as is: 30 to 50%)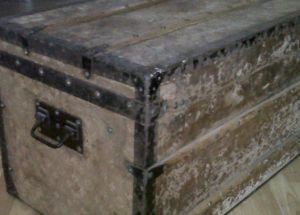 Above is a LV trunk with woven canvas, completely moldy at the back.
If the canvas is not salvable, this trunk will have no value (loss of value, as is: more than 50%)
Monograms of origin with initials like P.D. or H.L.M. are also depreciation, in France.
Stables strips or initials may be accepted in France and not at all in Japan where a trunk free from such marks is preferred.
1.9 Other depreciations
Leather / canvas
There are some tasks that the restorer cannot do because they would constitute forgery.
For instance, a leather handle can be replaced but the new one cannot, in no way, be marked with a Louis Vuitton logo.
Thus, even restored, the trunk will suffer a loss of value, in comparison with a trunk equipped with its original leather handles.
Moreover, the canvas cannot be replaced. The Vuitton workshops alone could do it but it is unlikely because the difference in patina between a new canvas and an old one is obvious.
So, a trunk with missing canvas on one side is doomed to be cannibalized in order to restore another trunk.
Jewelry
Many trunks from Vuitton, Goyard, etc., have been repaired. You will therefore find pieces the lock or a clasp of which is not of origin.
Replacing these parts is expensive and also leads to a loss of value.
Wood
The wood of the trunks (box or slats) is sometimes damaged. Replacing a reinforcing slat means taking off tacks and brackets.
Then you will have to find an adapted old slat, remake the missing piece, find identical and monogrammed tacks and, lastly, cold rivet in the traditional way all the tacks.
Restoration
Restoration made by a "handyman" with, for instance:
- Paint for ironwork...
- "Miror" which stains the canvas around the brass parts...
- Canvases glued back with UHU glue...
- A cut lock, a changed lock...
Leads to an important depreciation because restoring is much more difficult after that. .
FAKES (see post on forgery)
There are few fakes in Vuitton trunks; however you will find:
- Constant Vuiton (with a single T) branded trunks which are of course not Vuitton's
- Branded trunks mentioning Vuitton in the address, but with a wrong address and the name of someone else
- Trunks with a lock from another brand.
On the above photo, the seller failed to mention that the lock was not of origin.
- Fake or tampered suitcases or mainly vanity cases, with unmarked lozines, tacks not of origin, etc.
Here, the lock is not an LV one, neither are the lozine and corners
- Trunks with some modified parts
- Wardrobe trunks emptied of their content (important depreciation but of course it is not a fake). Some of them are equipped with drawers from other trunks and that have not the same yellow shades
False friends:
A trunk with an inside Vuitton label and with LV handles does not necessarily mean that the trunk is a Vuitton (it is also true the other way round).
Cutting of labels, photocopies are common.