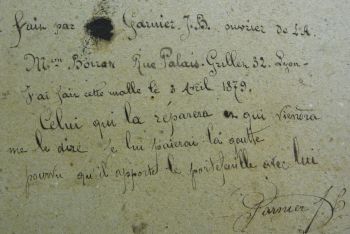 We often find in an antique trunk the date and the name of the worker, written in pencil on the wood.
But it is very rare that the craftsman has left such a complete message (found under the leather wallet in the lid):
"Made by Garnier J.B. worker at Maison Bolzon, Palais Guiller street 32, Lyon.
I made this trunk on 3 April 1879, he who will repair it and will come and tell me, I will offer him some hooch, so long as he brings the wallet with him".
Therefore I suggest that the Garnier family of Lyon should meet its commitments, 131 years later!