Here you can find the details about the HERMES' brand
History & Date of creation of Hermès' brand :


Founded in 1837 by Thierry Hermès, Hermès Paris, formerly a harness and harness manufacturer, is today a French company that designs, manufactures and sells luxury products in various fields: leather goods, ready-to-wear but also in perfumery, watches and tableware.

Hermès Paris was first created to produce and manufacture horse riding equipment (horse blankets, racing helmets, etc.) and bags for riders to carry their clothes.
When Adolphe and Emilie-Maurice Hermès, the two descendants of Thierry Hermès, took over the management of the company, it gradually specialized more in luggage, with the rise of the automobile industry, which allowed for greater travel.
They brought their know-how of saddlery harness maker and are the creators of the "saddlery stitch" in sewing and of the zipper.
Jean-René Guerrand and Robert Dumas, two of Emilie-Maurice Hermès' sons-in-law, and then her grandson Jean-Louis Dumas-Hermès, then took over the management of the Hermès company, ensuring that it became a guarantee for the development of products of exceptional quality and innovative creation: the Kelly (a handbag in homage to Princess Grace Kelly) or the silk square.
In 1964, Jean-Louis Dumas, son of Robert Dumas and Jacqueline Hermès, joined the luxury house and became the group's predecessor in 1978. He was the driving force behind the internationalization of the company, the diversification of its know-how and the values of loyalty, quality and innovation. He was also the precursor of the integration of the group's watchmaking, jewelry and goldsmithing businesses.
Today, Hermès is a family-owned, independent and responsible company that strives to keep most of its production in France while expanding its international distribution network. Faithful to its artisanal model, which it has been developing for 6 generations, and to its humanist values, it was elected a Living Heritage Company in 2016.
Techniques used and emblematic pieces :
Leather: to make these luxury objects (bags, saddles, gloves etc...), Hermès uses leather and this, in its entirety. Once the skins have been examined and sorted, the cuts are made in such a way as to optimize each piece of leather (the "skeletons") in order to find a use for them and not to leave any scrap: card holders, pebble handles, doorstops. Leather is also at Hermès, an opportunity to be inventive and creative.

The Kelly bag: Formerly named "Haut Courroie" when it was born in 1862 and was used to carry the saddle and boots of horsemen, this emblematic piece of the Hermès house has made it evolve over time to other forms according to its usefulness: trapezoidal in shape in 1923 in order to be easily slipped into a car door, it then becomes smaller and more feminine in 1930. Five years later, a padlock was added. It is then in 1954, when Grace Kelly discovers this bag during the shooting of The Hand in the Snare, that it will be renamed in her name "Kelly".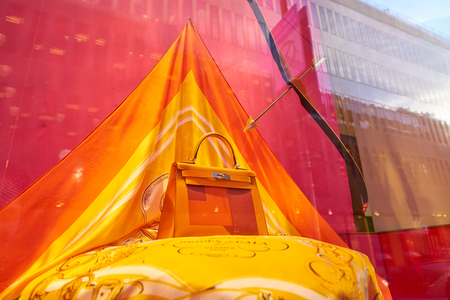 The Birkin bag: It was during a flight from Paris to London in the 80s, that the actress and singer Jane Birkin met Jean Louis Dumas, president of Hermes. As a young mother, she was looking for a bag that would be both practical and elegant, and so she began to draw the outline of the bag she wanted. Together they gave birth to this emblematic piece: the Birkin bag.

The 140 silk square: Woven in Scotland in a cashmere thread, and shaped with various patterns to create shawls, scarves and scarves, this silk square became an emblematic piece of the Hermès house.