La grande marque de luxe Cartier
Founded in 1847 by Louis François Cartier, Cartier is known for its jewelry, perfumes and luxury bags. Very quickly renowned for its know-how and its sought-after models and technical innovations, it is the precursor of watchmaking in the luxury world.
Its jewels, of neoclassical inspiration of diamonds on platinum mountings, were a great success with the royal clientele of the whole world: in addition to the weight reduction and the flexibility for the diadems, Cartier revolutionized the field of jewelry in the style as well as the technique, resolutely new. The beginning of the 20th century marks the geographical expansion of the brand but also the use of leather in the realization of a leather watch strap so that it can be worn on the wrist, designed for the aviator Alberto Santos-Dumont. Following the success of this watch, he began to develop other models.
In 1974, after 100 years of success, Cartier decided to launch several parallel lines, including leather goods: it broke with traditional classicism and iconized burgundy leather through the creation of the first collection of burgundy bags, a color that he established as a chromatic reference. The collections were developed by the company "Les Must de Cartier" directed by Alain-Dominique Perrin. Over the years, Cartier has developed other models with different shapes, but they all remain identifiable as elegant and stylish.
The development of the leather goods exception of a look that reflects all the preciousness of a great House: design, materials and details. A French brand known for its watch, jewelry and leather goods lines, whose models have been adapted over time and inspired by the movements of each era, Cartier has left its mark on the history of luxury.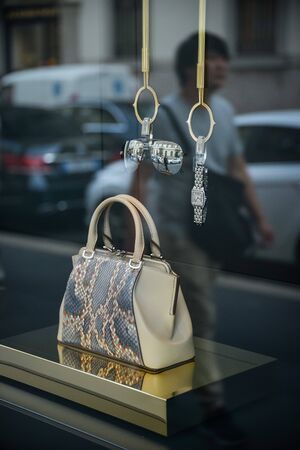 Today, it is a true reference, a symbol of French elegance and refinement.