On the trunk market, when we talk about all the hardware, that is to say all the metal and / or brass parts that make up a trunk, we call it "the jewelry".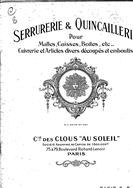 Jewelry has a fundamental role in the creation of trunks and their quality, because these are the elements that will allow them to obtain a solid structure and to keep it in the long term, if these elements are maintained with care.
Indeed, due to the extreme conditions (climatic conditions, humidity, etc.) with which the trunks have long been confronted by their functionality and their daily use, it is essential to take care to maintain these items of jewelry, otherwise, a trunk (its solidity, its design) could not remain sustainable over time.
The jewelry represents all the ingenuity of the trunk makers of the time.

Historical presentation: At the time, the company of nails Au Soleil played an important role because, by providing a wide variety of parts (nails, locks, hinges, clasps etc.) to many trunk makers, it allowed them to develop, and therefore to develop this sector of activity, which used to be very promising.
The company of nails "Au Soleil" was therefore a benchmark in the trunk sector, and it is often found, even today, on the locks of old trunks, through the acronym "Marque Au Soleil".

Example of jewelry pieces: Among the different pieces of the existing jewelry, take the example of the lock, highlighted in these few pages of the catalog of the Compagnie des Clous "Au Soleil":
• The lock: This part will make it possible to consolidate the closure between the lid and the trunk of the trunk. It can be unique (positioned in the center of the trunk) or positioned in pairs on a trunk. Its upper part is placed around the periphery of the trunk and its lower part (the plate) on the barrel. The piece that connects the two is called "the hasp". The fastening nails are either cold riveted or turned into the wood.
In this article, we can see that the name of the brand "Au Soleil" has been written at the top of the locks.
This historic company had a large catalog of notch locks, such as protruding locks, bolts, latches, reels, hinges, brackets, handles, label holders and coat hooks - hat racks.
Many other items of this type and on various pieces of jewelry were produced by the company. It was a key reference for the trunk makers and packers of the time.