La mode by Chloé
Founded in 1952 by Gaby Aghion, Chloé is a French fashion house known for its soft, lightweight designs. Seeing that the big fashion houses at the time were only producing custom-made pieces and haute couture, Gaby Aghion decided to create a line of clothing with pre-cut lines, with excellent quality materials: a line of "conscious, honest luxury ready-to-wear". She gives a lot of importance to the origin of the materials as well as to those who produce them.
Gaby Aghion decided to give the name "Chloé" to her luxury house in reference to her stylist friend, Chloé Huisman, whose warm, feminine and daring character was born in Paris at that time.
In 1966, when Karl Lagarfeld joined the House of Chloé, it became one of the most iconic luxury houses with its long, flowing skirts and steamy blouses.
After Karl Lagarfeld's departure, designer Stella McKartney joined the House of Chloé and brought a new direction to its collections: feminine, romantic, impertinent.
In the 2000s, under the artistic direction of three young designers, Stella McKartney, Phoebe Philo and Hanna MacGibbon, the House takes a new turn and brings a new energy by creating its collection of bags and its second line, See by Chloé.
The Paddington: with its oversized proportions, XXL frame, and luggage spirit, this bag has a casual chic charm that will quickly become the very first "it bag" in the fashion industry. It won the Vogue US.
The Marcie bag: created in 2010, this round and feminine bag evokes the nomadic spirit. A staple for all lovers of bohemian style, it is distinguished by its satchel shape, its pompom and its contrasting stitching.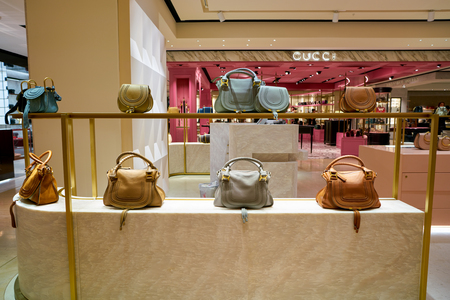 The Drew bag: Created for its Fall/Winter 2014 collection, the Drew bag reveals the seventies glamour dear to Chloé and immediately establishes itself as an iconic bag in fashion. Created in grained calf leather, precious skin illuminated with delicate touches of gold, this bag blends timelessness and understated elegance through its clean lines, feminine and sophisticated look.