Today we will tackle a subject as vast as fascinating: The arrival of trunks-mail at Louis Vuitton. What is a mail trunk and what does it look like? We will try to answer these questions in our dedicated file.
At the origin the trunks were domed; often at the back of carriages for very long journeys, their domed roof allowed the rain to flow easily and not to stagnate on top. First covered with animal skin, then with leather and finally with canvas or sheet metal, they were also heavy, which made them difficult to transport in large numbers.

Domed Sheet Metal Trunk, 1870
With the arrival of train journeys and their standardization, the curved trunk gave way to a new type of trunk, designed to be easily stackable in the carriages, trains and boats and thus be sent by the mailer, which gave him his name; trunk-mail, or steamer trunk in English. Do not make the mistake of thinking that it was made to carry the mail; it would have been simply impossible to lift !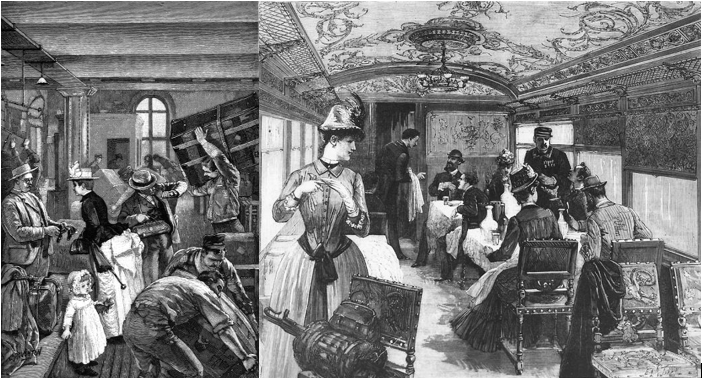 With its flat cover, its large dimensions, its light and flexible poplar wood and its various storage spaces, the steamer trunk is easily distinguishable and is probably the most common trunk on the market. It is also probably one of the trunks that has the greatest number of possible variants.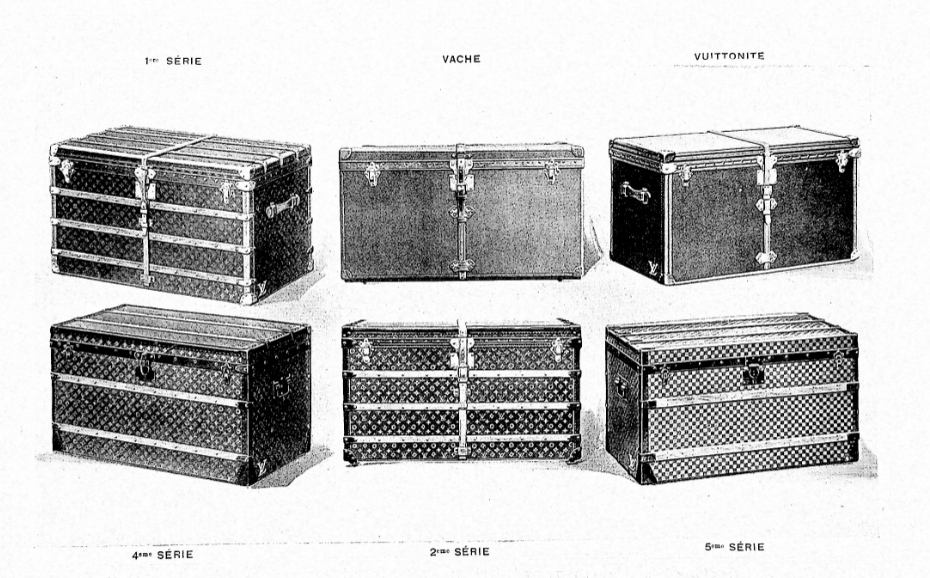 Various steamer-trunk finishes, Louis Vuitton Catalog 1914.
Whether it's a steamer trunk for men or women, measurements and storage integrated change. The men's model is usually between 45 and 55 centimeters in height. The women's model is a taller trunk and is between 80 and 110 centimeters, although in some old catalogs we can find models up to 130 centimeters !
STEAMER TRUNK FOR MEN, CATALOG LOUIS VUITTON 1914:
MEN model (Fig1)
This model is based on the same principle as the women's trunks described on pages 8 and 11; but the man's hat, requiring much less space than the lady's hat, we have been able to increase the size of the bowl where gloves, neckties, collars, cuffs, scarves, handkerchiefs, etc., easily find place in special boxes.
Under this bowl is a large space for linen. At the end of the frame, hat and shoes, then a simple frame for shirts, and the bottom reserved for clothes.
length
Width
Height
Interior layout
Qualities
110
54
54
Locked chassis
1 simple chassis
1 Background

Made with cow lockers Vuitonitte 1st, 2nd, 3rd and 4th series.

100
52
90
49
90

47
STEAMER Model(Fig2)
Under a different arrangement this trunk has exactly the same special locations as the previous one. The removal of only the hat and shoe boxes has reduced the height of the trunk and despite this, at equal length, it gives more space for clothes and shirts.
Length

Wildth
Height
Interior Layout

Qualities
110
50
48

Either a chassis lockers a simple chassis and the bottom

Two simple chassis and the bottom

the 5th and 4th series

only have one chassis

They are made with cow lockers, Vuitonitte 1st, 2 nd, 3 rd and 4 th series.

100
50
90
49
90
46
45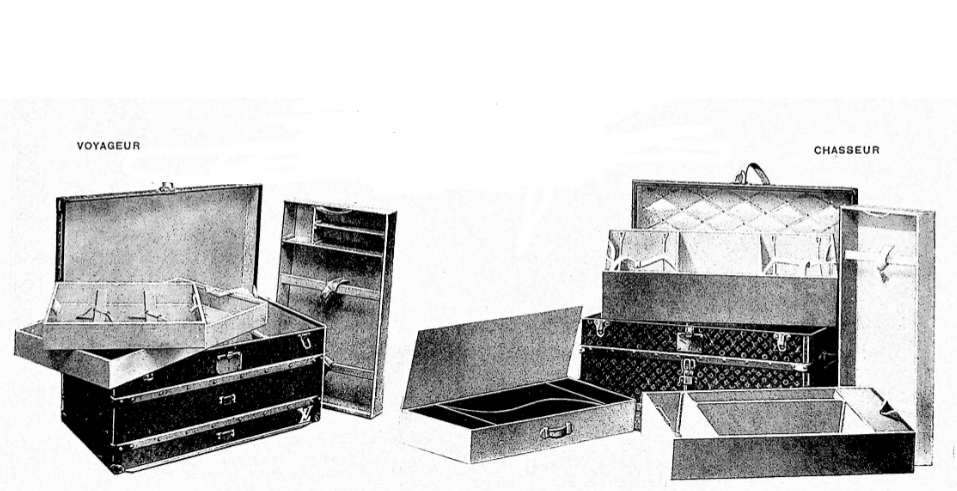 The « TRAVELLER »(Fig1)
Model having much analogy with the following, but larger dimensions, is in two sizes: 85 x 49 x 48 and 80 x 47 x 48 and in the qualities Cow, Vuittonlte, 1st, 2nd, 3rd and 4th series.

The« HUNTER »(Fig2)
A model that is, par excellence, the trunk of hunting trips, it contains 1 pair of boots, 2 pairs of shoes, 2 hats, shirts, linen, clothing, collars, handkerchiefs, ties, etc. It measures 90 x 50 x 48 and is made in Cow, Vuittonite 1st, 2nd and 3rd series.
All models are equipped with a leather strap, a lock and two clasps, but once opened, the integrated storage changes: For the men model, there are usually two frames, a frame for hats and storage boxes, a complementary chassis for clothes and the bottom of the trunk that gives a third compartment.
For the height women model, these storage are different: on one side a frame with small hats or shirts and veils, on the other a double frame with many storage spaces dedicated to ribbons, jabots and lace, and below, two simple chassis, in addition to the bottom where we can integrate a third chassis.
LADIES STEAMER TRUNK, LOUIS VUITTON CATALOG 1914 :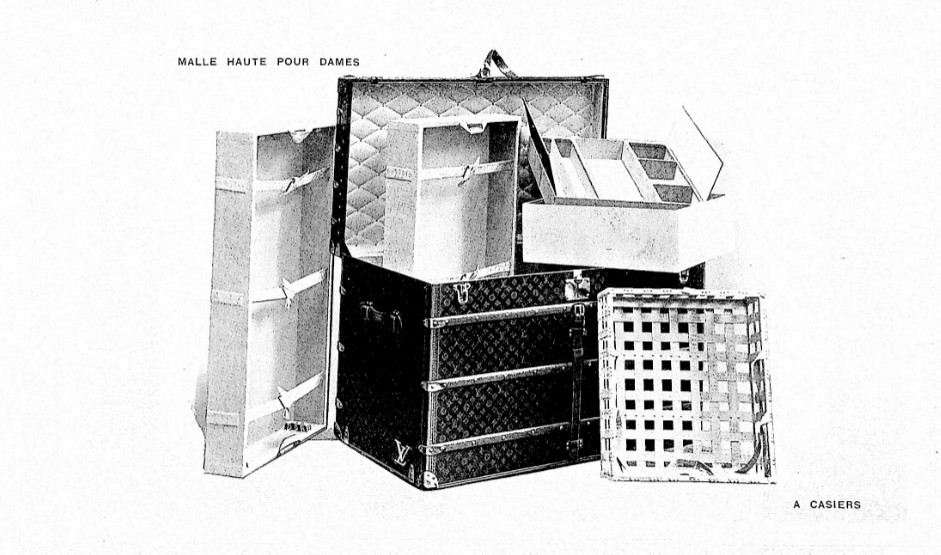 HEIGHT STEAMER TRUNK FOR LADIES:


Around 1860 VUITTON created the first CASTERS Trunks that, following the variations of fashion, we did not stop modifying and improving.
The locker trunk includes:
On one side, a cage for little hats or for shirts, blouses, veils, etc.
On the other side, a double frame, whose top is occupied by a bowl with many separations forming places for handkerchiefs, ties, ribbons, veil, jabots, gloves, fans, lace, etc.
Under this bowl a vast space for linen.
Two simple chassis and the bottom.
In the Sintéle model, there are 3 large plain frames and a bottom.
We advise for ease of packing, to replace the bottom by an additional simple chassis.
Length

Wildth


Heigth

Inside Layout


Qualities

120
63
63
Locked chassis
2 simple chassis
1 Background
simple,
That is to say
3 Simple chassis
1 background

They are made with lockers, leathers or Vuitonitte 1st, 2 nd, 3 rd and 4 th series.

In these last two the cage is replaced by a box with hats

the small lids of the rack frame are removed.

Simple in all qualities

110
61
100
59
90

57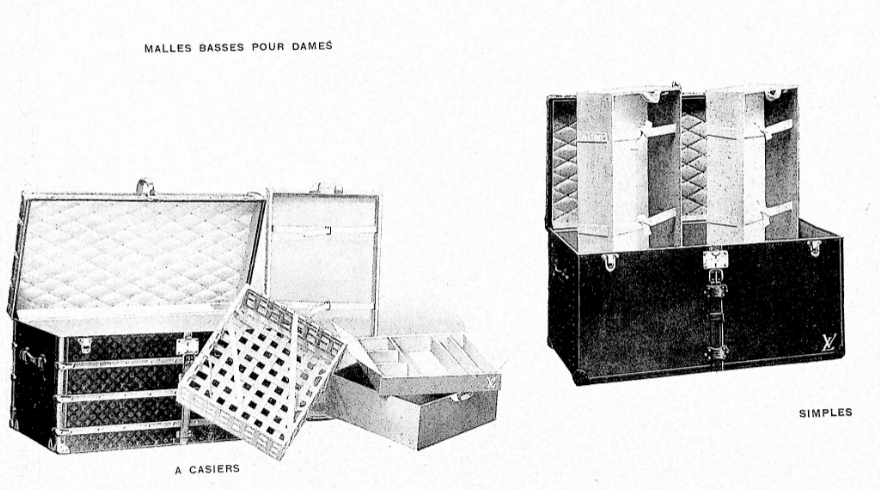 LOW TRUNK FOR LADIES
These models are derived directly from the previous trunk, but while large sizes are suitable for long journeys, those described here are, because of their more reasonable dimensions, used especially for fast travel. Their easy handling makes them very pleasant for circular trips.
The sizes of 100 and 90 cm. make very appreciable services like visiting trunks; in 80 cm., they are excellent trunks.
The chassis-lockers is in all respects similar to that described on page 9, except in trunks of 80 cm. where the short length requires to do it in one part and without cage, the latter replaced by a free box.
We recommend, for ease of packaging, to replace the bottom by an additional simple chassis.
Length

Wildth

Heigth

Inside Layout


Qualities

110

56

57

Locked chassis

2 simple chassis

1 Background

Simple

3 simple chassis

1 background

They are made with lockers, leather or Vuitonitte 1st, 2 nd, 3 rd and 4 th series.

They are made with lockers, leather or Vuitonitte 1st, 2 nd, 3 rd and 4 th series.

the small lids of the rack frame are removed.

Simple in all qualities

100

54

90

52

90

50
`
STEAMER TRUNKS FOR FURS :
Exterior-looking, similar to our usual trunks, these trunks are internally lined with camphor wood and have an airtight closure; they are indispensable to people who, changing their climate during a trip, are anxious to keep their furs safe from insects.
They are made in all sizes and all qualities.
The Steamer Trunk due to its popularity, has different finishes. Borders in steel, leather or lozine, handles in steel, leather or brass, jewelery in steel or brass (or even in copper for some leather trunks), the steamer trunk adapts to every budget.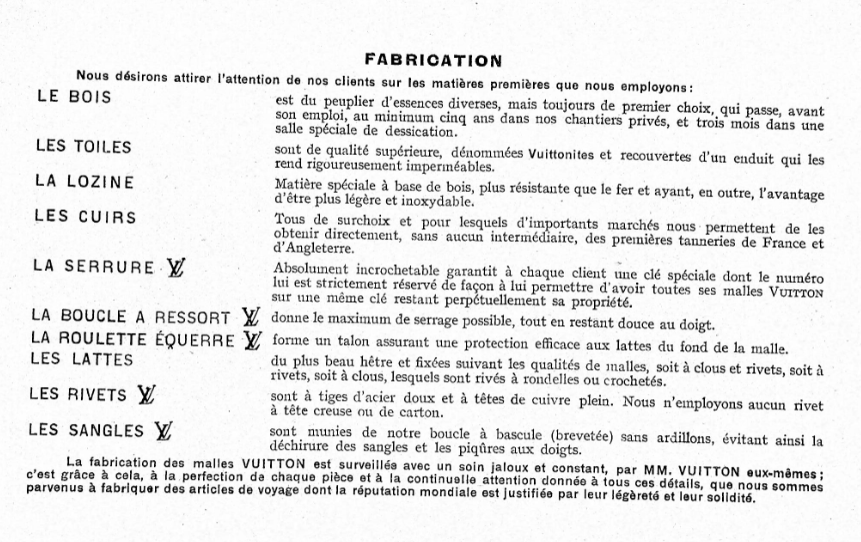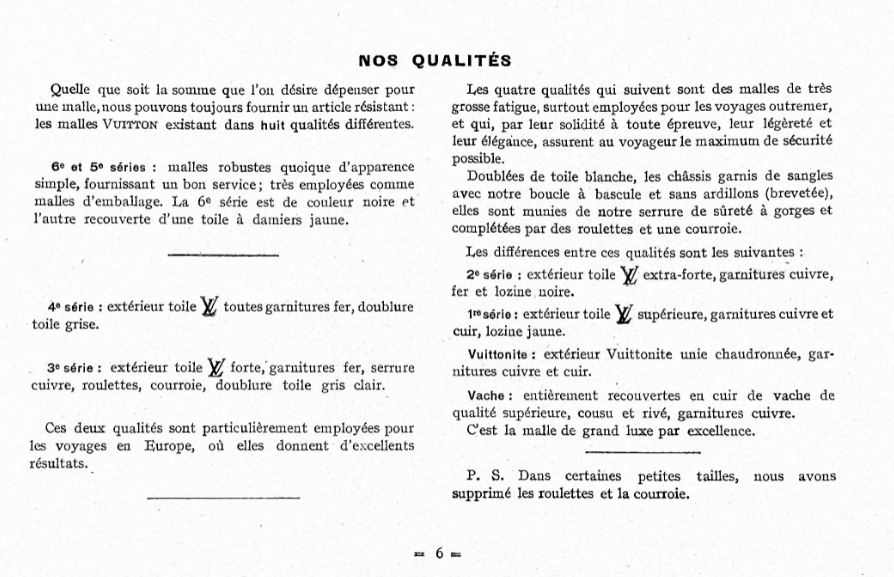 In addition to these finishes, the steamer-trunk saw its canvas evolve; first in 1860, the avant-garde gray trianon at a time when everyone made brown coated canvas.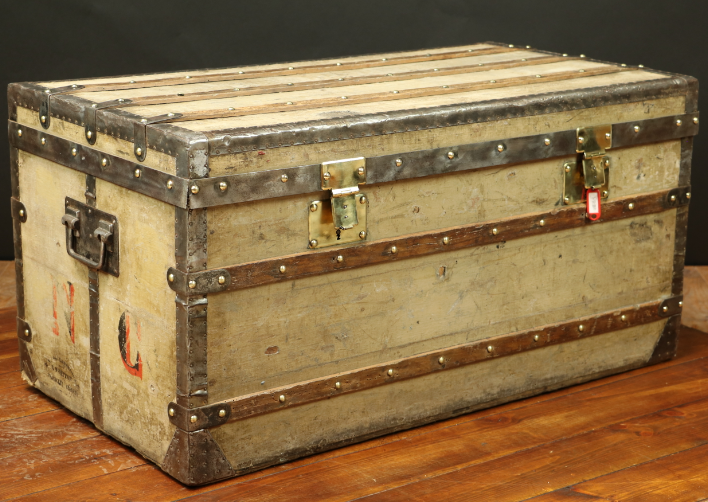 Then in 1872 red striped trunks (beige and red) and tan stripes (beige and brown) symbols of the Deauville era and its half-timbered house.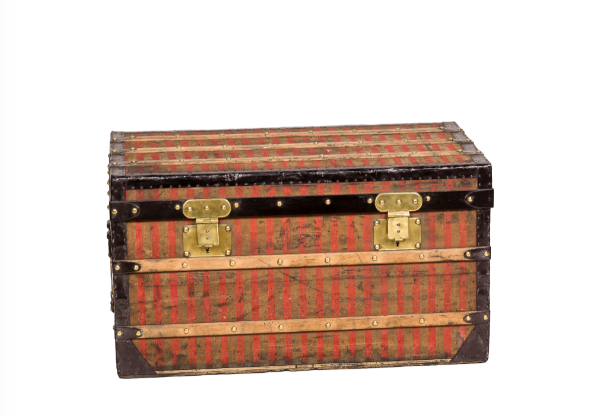 Red Stripped model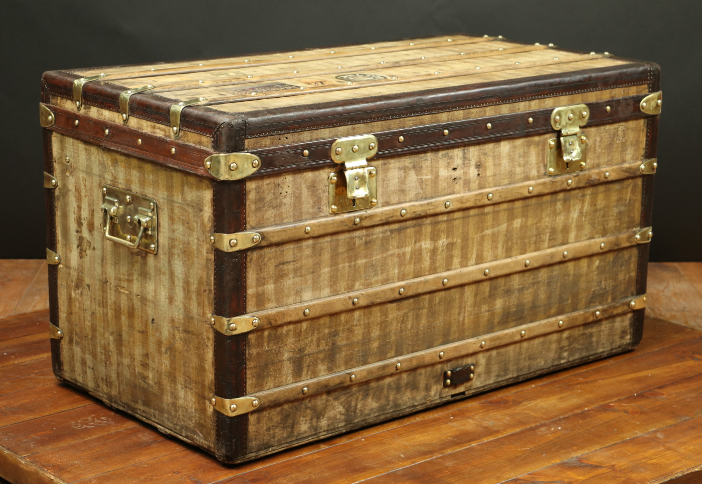 Tan Stripes Model

In 1888 came the checkered canvases, mainly yellow for packing crates and a predominantly red checkerboard. Following the first cases of counterfeit, the House Vuitton begins to deposit on some checkers the mention "Louis Vuitton, registered model. "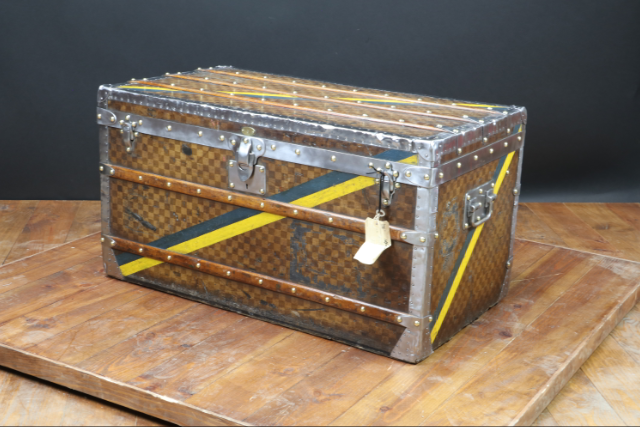 Tan Checked Model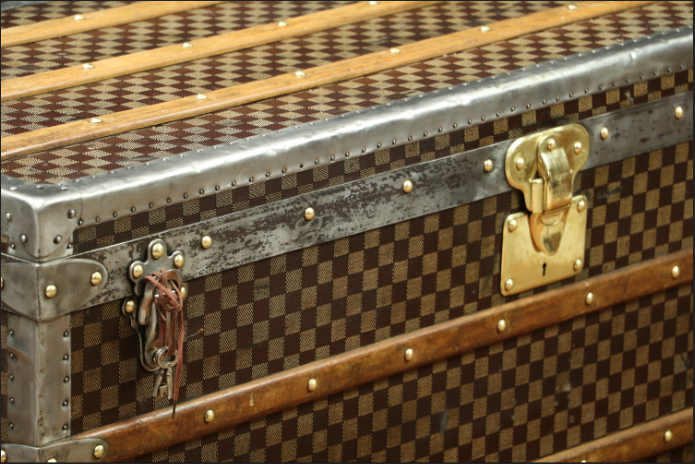 Red Checked model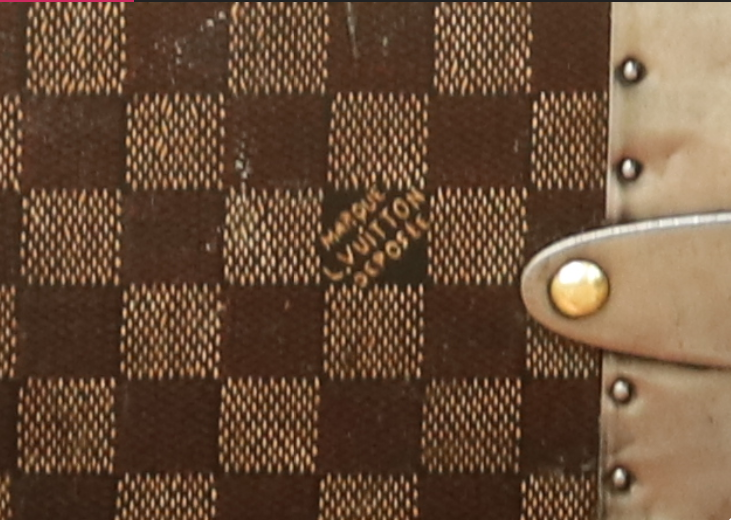 "Louis Vuitton, registered model"

Finally, the paintings begin to look like what we all know with the arrival of the monogrammed canvas "LV" woven in 1896. The model will also exist outside "cow" (leather), vuittonite orange or yellow, trunks in zinc for long transport in tropical countries ...

Woven monogram model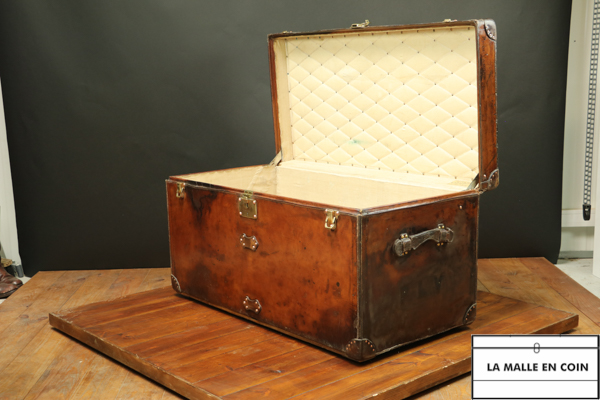 "Cow" (leather) model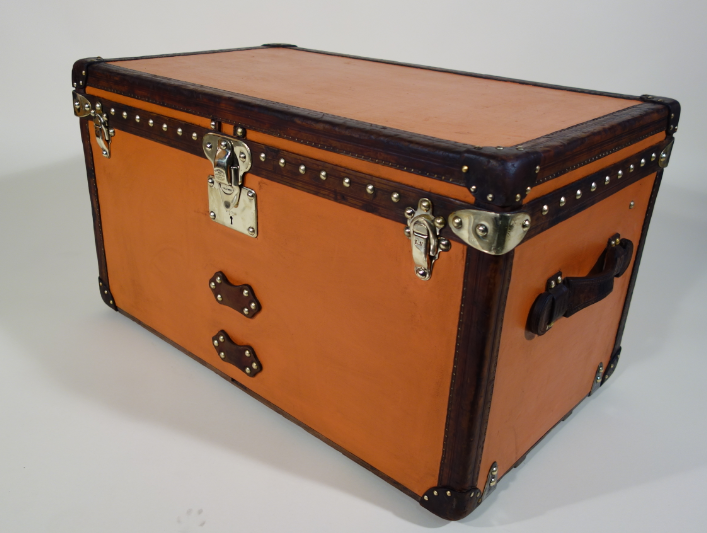 Orange Vuittonite model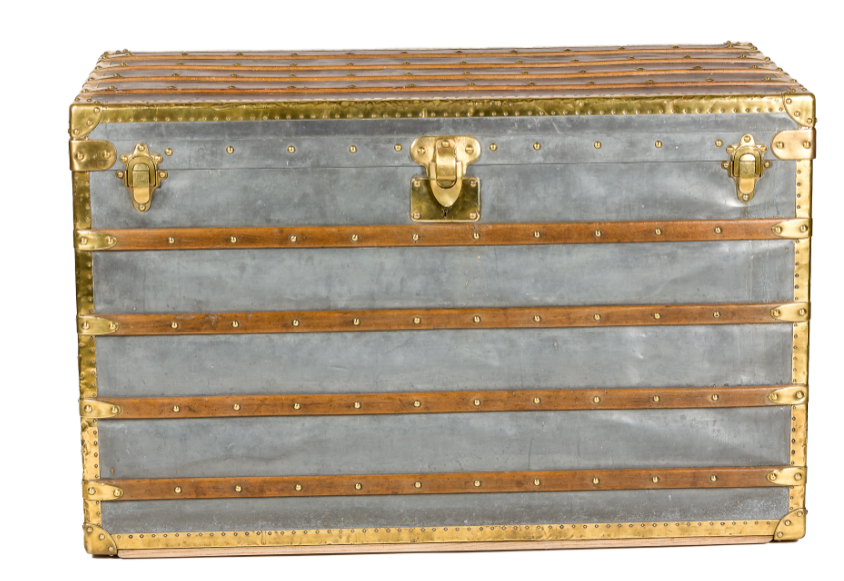 Zinc model

And finally in monogrammed canvas stencilled and printed, as we know it.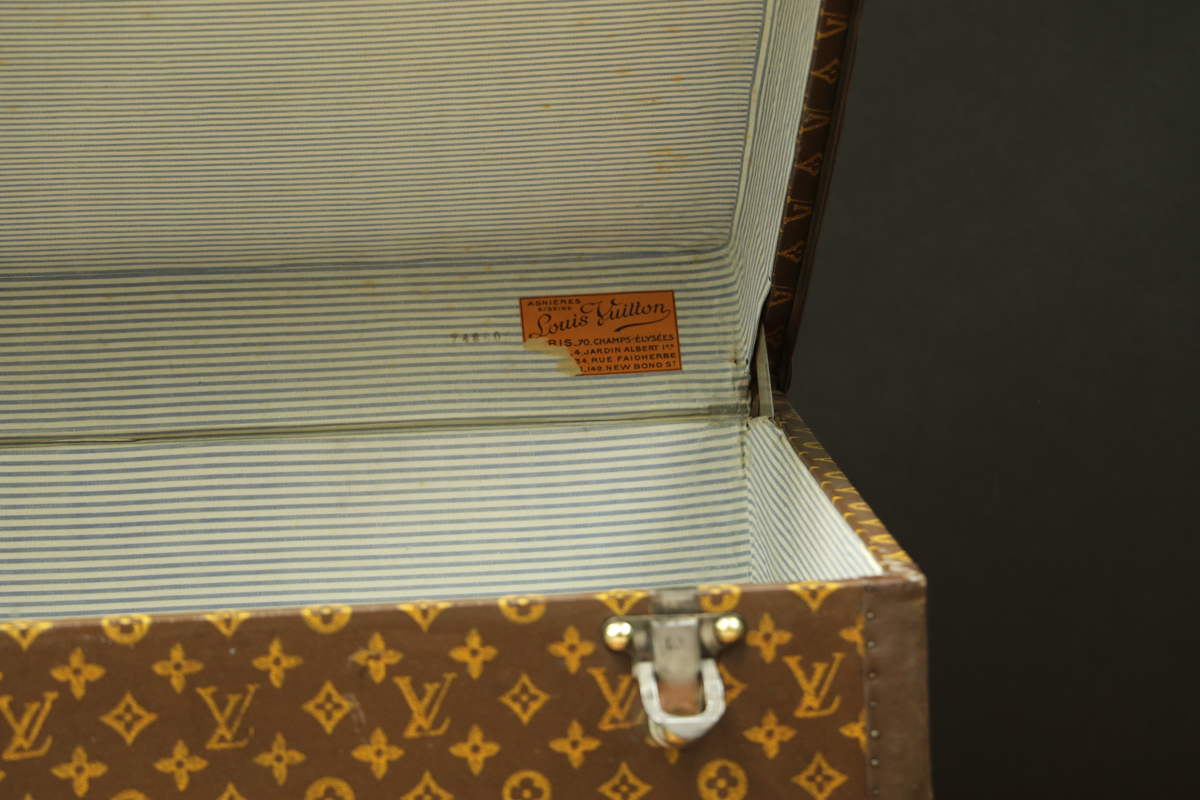 Stencil Monogram model
We are fortunate enough to have at the luggage museum several steamer trunks that belonged to historical personalities, such as the steamer trunk that belonged to the Grand Duke of Russia Cyril Vladimirovich, with leather and copper nail cloak. Marked by a crown that attests to his rank of nobility, his initials and a sea anchor. Or the steamer trunk of Philippe de Vilmorin, famous French botanist.
The steamer trunk is probably the vintage trunk that our customers ask us the most and that we sell the most. It is a perfect investment for any novice collector or interior decorator; indeed, the steamer trunk will easily become a low-table with the addition of a glass tray, a piece of bed to store your bed linen, at the end of the sofa for your blankets ... Light, available in many finishes and canvases that will easily adapt to the colors of your interior, large without being imposing, the steamer trunk will embellish your home effortlessly.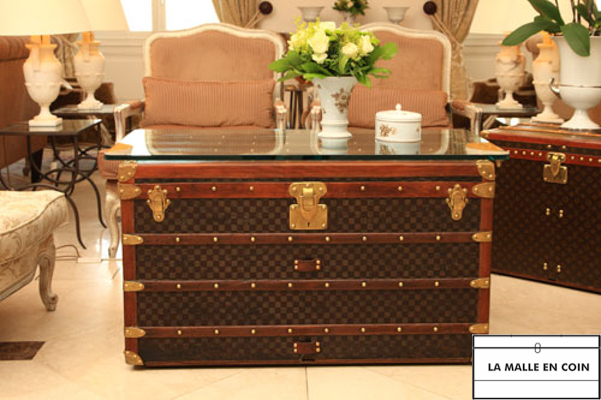 A steamer-trunk red checkered, lozine borders and brass jewelry transformed into an elegant coffee table.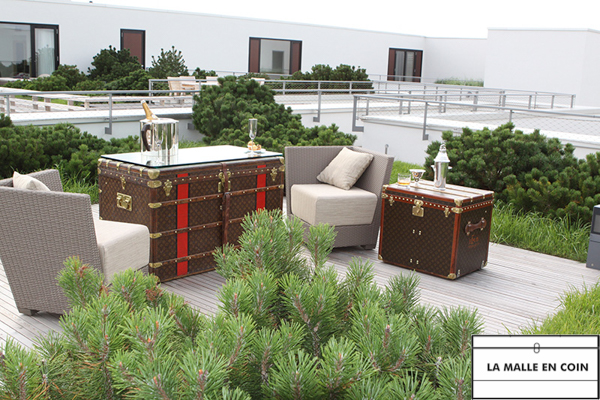 Lady High Steamer Trunk and an hat trunk that turn into beautiful elements for an outdoor living room.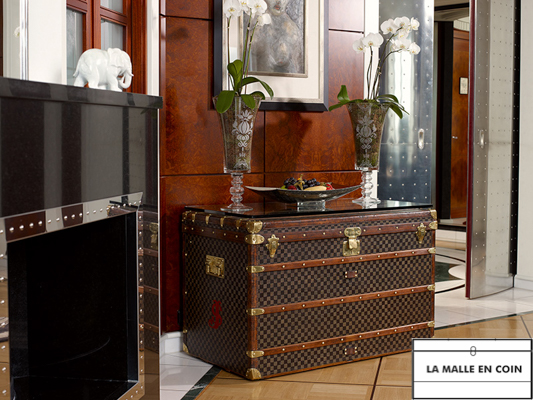 The steamer trunk is also a superb console to deposit elements of decorations!


End of bed, end of sofa, the steamer trunk is a true chameleon in your home.
Please, visit our shop to find the steamer trunk of your dreams or to check on the article about before/after renovation of steamer-trunks. You can also see our video bellow dedicated to steamer trunk :