On this page, you will find some samples of trunks, before and after restoration.
That page is meant to show you, if necessary, that nothing is hopeless.
The mentioned prices are estimated ones for luxury trunks or trunks with a major restoration work.
We also undertake more simple restorations.
We need the 6 photos + dimensions by e-mail in order to give you a quotation.
Consider viewing our case studies, in the blog, for example:
Wardrobe trunk Case study N° 9
Hat trunk: Case study N° 4
Red striped trunk: Case study N°10
See more examples on PINTEREST
You can enlarge the photos by clicking on them.
Louis Vuitton Damier trunk

Louis Vuitton wardrobe trunk after 15 years in a wet cellar
Louis Vuitton cabin trunk, woven canvas
Louis Vuitton steamer trunk 110 cm
When leaving the barn…!
About 50 hours needed
Steamer damier trunk (among other things, mending of the bottom right hole)
Malle Louis Vuitton courrier monogram
Initial state: moldy slit canvas, damaged wood with missing parts
Vuitton striped trunk
Restoration by Musée du Bagage
Goyard trunk belonging to Mr. L from Luxembourg (rebuilding)
Mrs. D. M-V Vuitton bag 1860
- Repair of valance and lock (existing but destroyed)
- Mending of the holes in the leather, dying of the leathers
Wardrobe trunk Mr SV
Mrs. B. wardrobe trunk
Creation of additional drawers on the left, new color fabric coating
Wardrobe trunk for a shop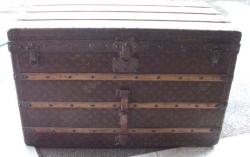 before restoration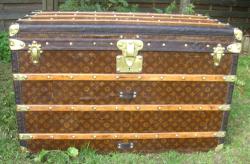 after restoration
Before: no monogram. After: with a nice woven canvas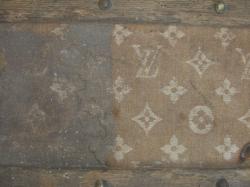 More restored examples…? See next page with more classic trunks