Custom-made trunks :
- Historical reconstructions, special events, theater scenery, car external trunk, desire for luxury, need for exclusivity and unique product… Let's create together and custom-make the trunk you need!
- We will design together the trunk you wish while respecting traditions, with poplar wood and new or period parts. Canvas, fabric, leather for the exterior, trays, drawers, various layouts for the interior.
Everything is possible; it is only a matter of imagination… and of budget.
Trunk with shelves for Miele France
The project concerns the creation of shelves coated with a Miele monogram for the layout of the new Miele Paris shop.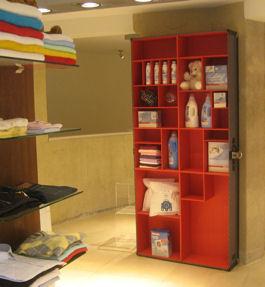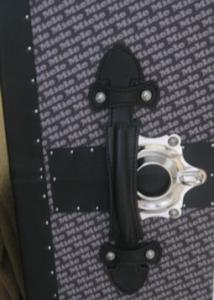 Wardrobe trunk for 12 pairs of shoes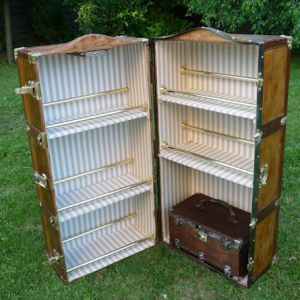 Antique trunk with fabric coated interior and brass bars for 12 pairs of shoes
+ briefcase for shoe polish accessories.
Antique trunk safe, laid out for a watch collector
With a first 12-compartment tray to accommodate watches and cases,
A second tray underneath for the accessories
Wardrobe trunk converted into a champagne bar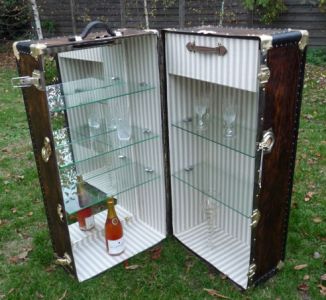 Glass shelves, LED lamp, drawer for accessories.
TV trunk with remote-controlled lid opening
The trunk is 120 years old. The 22-inch plasma TV has just come out.
Our customer wished a combination of the two, in front of his bed.
The DVD starts… The TV turns on et the show begins.
Watch the video
CD/DVD trunk for a musician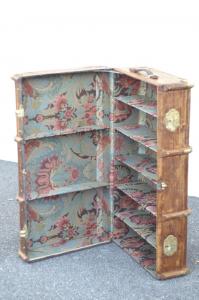 Ocean liner cabin trunk converted into a CD trunk. We pad the interior of a cabin trunk and create removable or fixed shelves in order to store more than 350 CDs
Car external trunk (project for a Morgan car)
The curve of the car is respected to enable to see through the rear window. A protection makes it possible to attach the trunk on the baggage rack. The trunk, which takes up the available space at the rear of the car, can contain a wardrobe, a storage place for shoes and various drawers.
Two castors and a retractable handle will bring the driver an additional moment of pleasure when he will arrive with his Morgan car and unload the trunk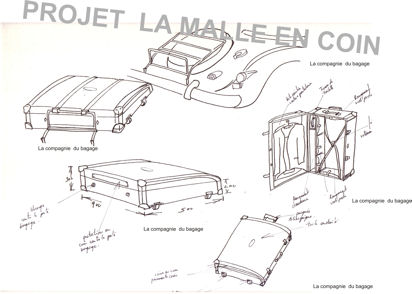 Trunk for Champagne and jewels (project developed for the Byblos hotel in St Tropez)
The trunk contains a 9-liter bottle of Champagne, 4 flutes and a set of jewels from a famous Place Vendôme jeweler. A black leather original creation with leather edgings, suede-like interior, name of the client embroidered with gold thread, personalized and numbered brass plate, brass jewelry, interior LED lighting, removable jewelry box, built-in mirror with sliding flap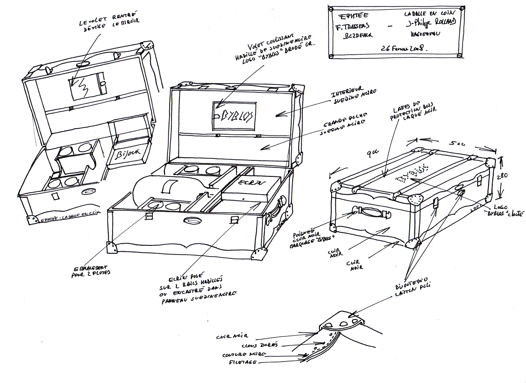 Order from Disney Studios











Creation of a set of fake baggage intended to be molded to make a railway station decor.
(In collaboration with Pierre Ilg, from La malle au trésor).
The steps of our on-request restoration service:
- You send us by email digital photos of your trunk or a design of your project (we need the 4 sides, the top and the bottom).
Depending on your trunk's specificity, rarity and financial or sentimental value, we propose you a possible restoration type. Once you have looked into it, we draw up a restoration price quotation, according to your result requests.
- You send us your trunk or leave it to us.
We will be able to do the following work:
- Minor exterior restoration
- In-depth exterior restoration
- Restoration of the hardware
- Replacement of certain parts
We work with different products for the exterior and interior trunk coating, from paper to leather, through a whole range of upholstery fabrics.
Once our price quotation accepted, we take a series of photographs throughout the restoration work and regularly send them to you by email so that you can follow the progress of your trunk. When the work is terminated, we send you by protected parcel your completed trunk.
Reconstituted trunk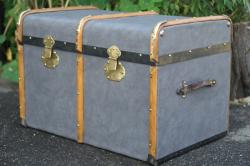 Each nail, each metal part, each wooden slat has been taken off, treated and restored separately. The nails, for instance, are straightened out and polished one by one.
Once these steps done, the trunk has been canvas re-coated for a complete refurbishment. To that end, we use the current product named Griffine, equivalent to the yesteryear coated canvas.
After the laying of the canvas, the trunk is reassembled like it was originally built when created.
That kind of restoration is particularly long and tricky. Indeed one must be careful not to break the antique parts which are, most of the time, more than a hundred years old
Video trunk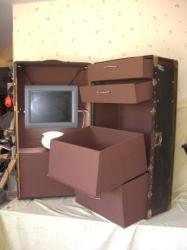 Transatlantique branded trunk converted into a video or Hi-fi trunk.
Space for flat screen TV, DVD player, 4 side drawers, 1 for DVDs
Interior electrification thanks to built-in multi-plug adaptor
Neon tube lighting system with built-in switch
Trunk for a dressing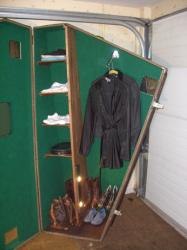 Exterior restoration of the wardrobe trunk for a harp
Interior restoration and coating
Electrification and putting in of footlights
Fitting of brass bars for shoes
Putting up of oak shelves (see Wardrobe section)
Trunk for laptop PC, printer and keyboard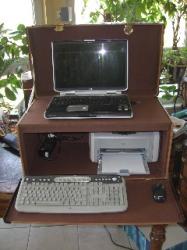 Wi-Fi PC + printer + keyboard BT + external hard disk set up comfortably in their trunk.
Once closed, the trunk lets nothing show. Cables are grouped together in a recess designed for that purpose.
Period commode trunks are reinterpreted: that trunk is created from an existing basis of the 1910s.
The original trunk is dismantled and then leather re-coated. The front face is hinged in order to enable an easier access.