Several French or foreign brands deserve the attention of collectors and connoisseurs; too often neglected, they nevertheless present sometimes very high quality items!
Below you will find examples of the brand items and main characteristics.
We broach here ONLY brands that have bothered to sign their productions, differently than by putting a mere label.
A small ranking from 1 to 5 stars (*****) will help you to position these brands on the market in terms of reputation; as for the value itself of a trunk, it
depends on the model, its condition and the condition of its accessories (locks, canvas, monogram etc.)
LAVOLAILLE (Paris) (formerly Ets Katz) (**)
The Lavolaille's production is generally an entry-level one. Most often, you will find trunks from the first half of the 20th century covered with black coated canvas. Most of the Lavolaille trunks are built in the same way: poplar plywood in laminated layers glued together and covered with metal strips, with a coated canvas covering the whole. The handles are usually attached to vertical slats and not directly on the box. The bindings are either metal or brass..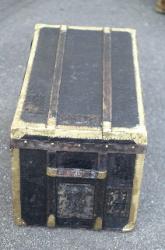 Main characteristics:
Glued coated canvas
Signed lock (possible but rather unusual)
Label made of sheet metal, paper or brass
No brand-specific canvas

Aux Etats Unis (Paris) (French brand) ( ***)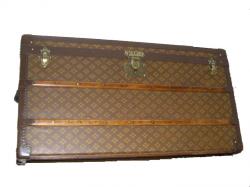 Main characteristics:
Main characteristics:
Coated canvas with monogram and motifs
Signed lock with address
The brand address (St Honoré Street) makes it a Goyard's neighbor.


The family Bernard
The Bernard trunk – Jules Bernard – Les Ets Bernard (Paris) ( **)
See friendly links, because there are still nowadays 2 Bernard companies from the lineage of The Bernard trunk and Les Ets Bernard.

History:
De Jules à Éric BERNARD
Four generations of trunk-makers pass on to one another a hundred-year old box and trunk maker and packer know-how…
In 1906, Jules BERNARD (1876-1949), box and trunk maker and packer at Grand Magasin du Louvre, and his wife, paper-box maker in the same store, leave their jobs to purchase a box and trunk making and packing store at Aboukir Street 75 in Paris.
They make trunks and travel items and specialize in adapted baggage for commercial traveler.
In the 1930s, under the influence of his son Adrien, who works with his brothers in the family business, Jules Bernard creates a range of trunks for cars and registers the trademark La Malle Bernard.
In 1946, Adrien Bernard (1906-1971) hands the company to his brother Charles to settle Street of Jeuneurs,40, in Paris, in the former Quesnel factory specialized in fiber baggage making.
In 1971, Rémy Bernard succeeds to his father Adrien.
In 1976, he creates the BERNARD RDB factory in Bagnolet (Seine-Saint-Denis), specialized in the custom-making of cases and travel items, and in business baggage for commercial travelers, show-business, audiovisual trade and film industry.
Since 1994 he works with his son Eric, fourth generation of BERNARD trunk-makers. (see friendly link)
Moritz-Mäedler (Berlin) ( **)

Moritz-Mädler is a manufacturer from Leipzig and Berlin. Though very little known in France, the brand is a true luxury one.
Flat top trunk, bentwood banded trunk, wardrobe trunk, I have not seen yet a dome top trunk.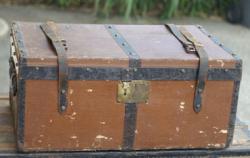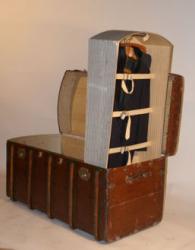 Main characteristics :
Monogrammed nails
Hallmark plate
Brass jewelry
Signed lock
Nice interior labels
No brand-specific canvas








Old England (France - Paris) ( ***)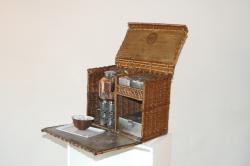 Main Characteristics:
Signed lock
Fine details
On some items, brass or leather labels complement authentication.
No brand-specific canvas
Au Départ (Paris) (also exists in Switzerland) ( **)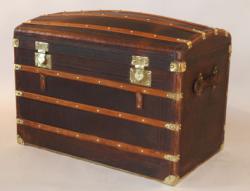 Main characteristics:

Lock sometimes signed
Nice labels
Several models
Dome top trunks often massive
No brand-specific canvas
Georges Paris ( **)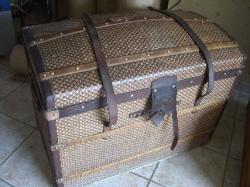 Main characteristics:
Signed lock
Damier canvas with shifted checks
De L'Hopital (in France, also exists in Switzerland) (*)


Main characteristics:
Signed lock
Plain canvas
Les magasins du louvre (France ) ( **)

Main characteristics:

Signed lock with a lion topped with a capital L
The Magasins du Louvre at the heart of a counterfeiting case, first story of the kind!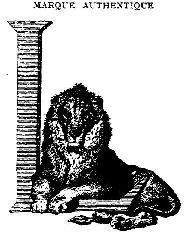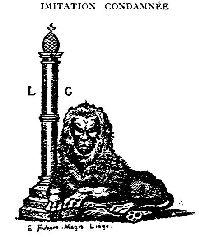 The counterfeit mark in this case is the emblem of the Grands Magasins du Louvre. Created in 1855 by Chauchard only three years after the opening of the Bon Marché, the Magasins du Louvre were one of the first Parisian department stores.
That temple of consumption has inspired Emile Zola for his novel "Au bonheur des dames" (whose title corresponds to the trade sign of a fictitious department store synthetizing GMdL and Bon Marché).
The Grands Magasins du Louvre closed their doors in 1974. At their peak, they were occupying the buildings of the present Louvre des Antiquaires, as well as a branch in Marengo Street, connected to the main establishment by an underground passage.
In this case, Chauchard and Co., that runs the Grands Magasins du Louvre, holds the trademark consisting of the graphics of a lion lying at the foot of a momumental letter L. They registered that trademark in France and also in Belgium (where it is only in 1971 when the Benelux Trademark Office took over from the national authorities).
The imitation to which they here have been faced with is cunning: the later mark consists in a lion sitting in the same posture at the foot of another monument, the top of the Perron in Liege.
(Sources: Frédéric Glaize, Blog des Marques)
Bazar du voyage / W.Walcker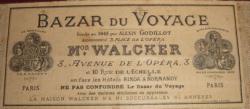 Walcker took over the activity of trunk-maker from Mr. Godillot.
Main characteristics:
Large central brass lock
On some antique dome top models, the brand hammered tapered square nails (bevel cut).





In 1900, there were more than 150 trunk-makers in France; each large town or region had its own specialists. I have gathered here some examples to show you how rich the production is, with even some local one, often unknown by the general public.
The trunk-makers of our region the Alsace
Sturm Strasbourg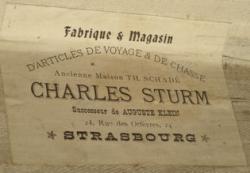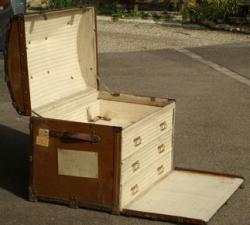 Klein

Kuhn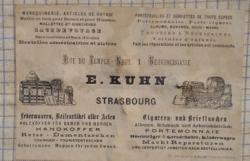 Foreign brands
Innovation

Prolific American brand, above all for wardrobe trunks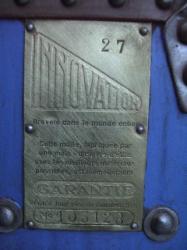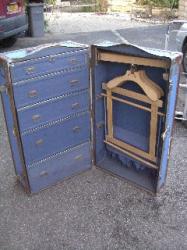 Main characteristics:
Innovation had a complete range of wardrobe trunks, from the entry-level models to the luxury ones.
Most often its trunks bore an identification plate with numbering (there is neither number nor plate on the oldest ones).
Innovation had a store on the Champs-Elysées in Paris, up to the sixties.
Oshkosh, luxury trunks, USA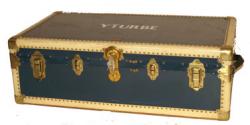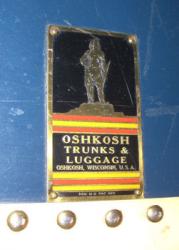 Main characteristics:
Well-known for its logo which represents an American Indian, the brand was long considered the American luxury.
These trunks, very sturdy, are often rather "simple".
Neverbreak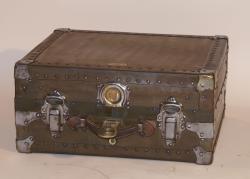 Main characteristics:

Provider for the American army, Neverbreak does not go in for subtleties.
The Neverbreak sturdy trunks, always bearing an important jewelry, are identifiable.
Bindings are always made of lozine.
Wood is most often period plywood.
Jewelry is made of white metal.
A plate Neverbreak is always affixed on one side of the trunk.