Moynat (1849-1976)
The most prolific of French luxury trunk brands, Moynat was relaunched in 2011. Situated in Paris, in Saint-Honoré Street, the 200m2 store presents some antique trunks and competes with Goyard and Hermes.
The brand, run by G. Davin, belongs to B. Arnault, via an investment fund since 2010.
At Moynat, no doubt, everyone finds what he is looking for! From the entry-level trunk for motorists, to the luxury leather briefcase, all aspects of luggage-making are studied.
Moynat has produced very high quality items, even absolute luxury.
The brand was a worthy competitor to Goyard and Vuitton.



















Moynat is a particularly imaginative brand for labels and hallmark plates.
Steamer Moynat trunk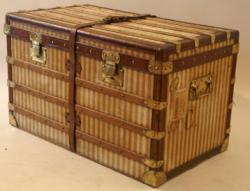 Cabin Trunk

35cm high in order to be slipped under the cabin bed in liners.



Trunk for shirts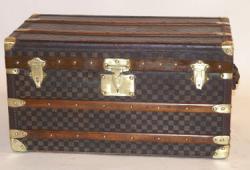 Car External trunk
Leather suitcase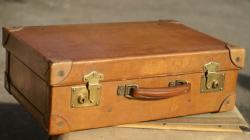 As you can see, we do not have, up to now, a Moynat wardrobe trunk…
You have a model of that brand? We are willing to buy, contact us!