Louis Vuitton trunk in its original state
State statement before restoration
This trunk has a stencil monogram
It is in good original condition, it is simply dirty and has some glue burning defects
The lozine has slightly blistered in some places, due to heat at some point in the life of the trunk.
The original interior is in perfect condition, odorless, so it will not be necessary to intervene.
- The trunk has its original jewelery
- The interior is in good condition, odorless
- Lozine and canvas are complete
- Dirt is visible and the trunk is faded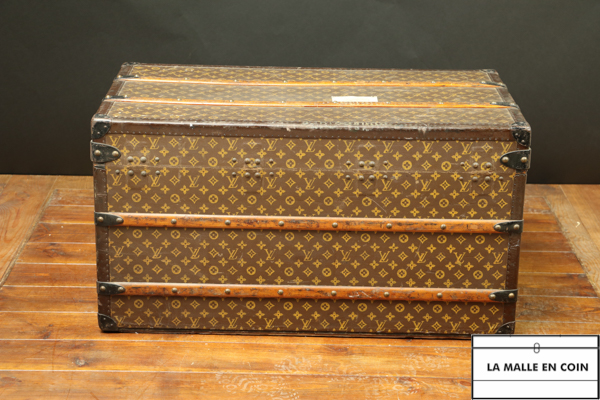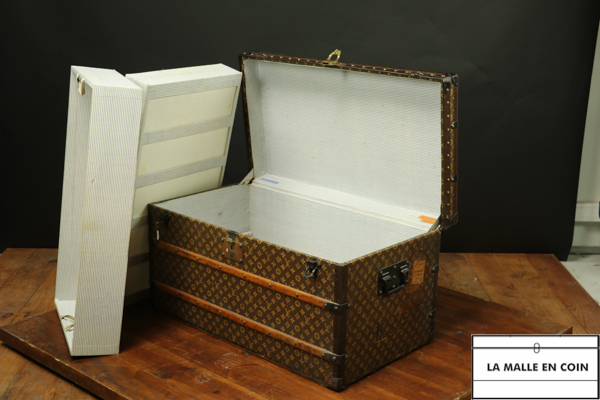 Louis Vuitton trunk after restoration

State statement after restoration
The brasses are polished, but not new.

to keep the patina

The metal is brushed.

We chose not to recolor them in black as the trunk was originally .. Why?


It is extremely simple for us, in 1 afternoon, to recolor the metal parts, it opens the choice for the customer:




To have the trunk in this state, more constrasted or to have it exactly as, of origin, with the steel of black color.

Labels are removed, why?
All tags are removed and kept. We remove them so that the collector sees that the canvas is in good condition.
It is too simple for some to stick labels to hide holes or defects. Moreover, these labels do not
are of no major historical interest, they are SNCF transport codes. These labels did not have names of people
and no visible date.
The initials of the 1st owner are kept in the state, it is our choice, it could, on demand,
- be totally erased
- To be repainted, as originally


- Be erased and replaced by the initials of the next customer




We keep them so that the buyer has a choice and buys a trunk knowing the past of his object.

It's a question of transparency.