Page 2 of 4
Examples of Vuitton-made trunks
See examples of Louis Vuitton on sales: LV trunks :
LV trunks on the website www.la-malle-en-coin.com
For a valuation, please read the post on the blog : " How much for my Vuitton in the shop-window "
There are hundreds of different trunks ...
We present below, the standard range, then the special trunks of Louis Vuitton.

Important: all trunks presented in photos below are trunks that we have restored in OUR workshops.
We only publish our work.


The Steamer Trunk
The steamer trunk is available in gray, striped brown or red, yellow or dark checkered
Monogram woven, stencilled or printed, in natural leather and in the colors Vuittonite
The steamer trunk "classic" exists from 70 to 110 cm
Nowadays, in new, Vuitton still offers them from 90 cm to 110 cm.
It exists in a man version (height about 50 cm) and in a woman version (about 65 cm)
Their finishes vary between steel angles, lozin or leather;
| | |
| --- | --- |
| Steamer Louis Vuitton trunk | Steamer trunk with wooven canvas |


Leather steamer trunk
The steamer trunk comes in a range of striped canvas, damier canvas, monogram canvas and Vuittonite.
Louis Vuitton Cabin Trunk
The trunk cabin is a trunk 33cm high,
historically geared to be slipped under the beds of the liner cabins,
Originally, they are lower than steamer trunks.
They also exist in all lengths and types of canvas.
Their finish varies from steel angles, lozins or leather;
| | |
| --- | --- |
| | Louis Vuitton Damier cabin trunk |
Louis Vuitton's Wardrobe Trunk
The trunks are very different
They exist in 55 cm of depth and in 65 cm.
In height, they are from 110 cm to 145 cm, for larger ones.
They have facilities that differ according to the models and the needs of the client.
The trunk trunk is transported horizontally for this model and is used vertically.
Hat trunk
It exists for women or men and can store 1 to 12 hats, for the largest.
They are either of cubic form of small dimension (man),
65X65X65 format for women,
either of steamer format, with a hat chassis.
example of Vuitton hat trunk and video on a brief history of hat trunks
Article on Louis Vuitton's Hat Trunks.
| | |
| --- | --- |
| | leather Louis Vuitton hat trunk |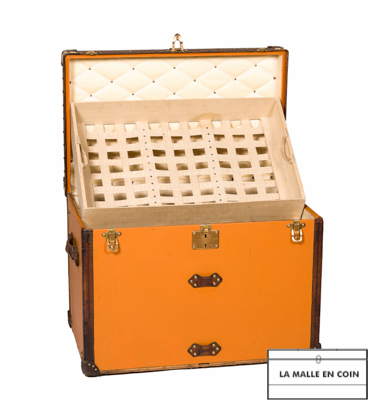 Vuittonitte orange women's hat trunk

Shoe trunk
Ce type de malle permet de ranger plusieurs paires de chaussures, espacées et protégées des chocs par des séparateurs en
suédine comme l'intérieur des chassis.
La Lily Pons, du nom de la cantatrice qui a commandé la première malle de ce modèle, est une malle 30 paires.